Last updated on April 7th, 2022
Our site is reader supported, this means we may earn a small commission from Amazon and other affiliates when you buy through links on our site.
In a conservatory, you can grow plants in pots and containers all season long. But how do you choose the best shrubs and climbers for your conservatory?
There is a collection of plants to which the RHS Award of Garden Merit has been bestowed upon them. They can be kept in your conservatory throughout the seasons, producing optimum levels of growth that don't outgrow the space in which it is planted.
Some of the best plants to have in your space are those which have received the RHS award. 
1. Plumbago auriculata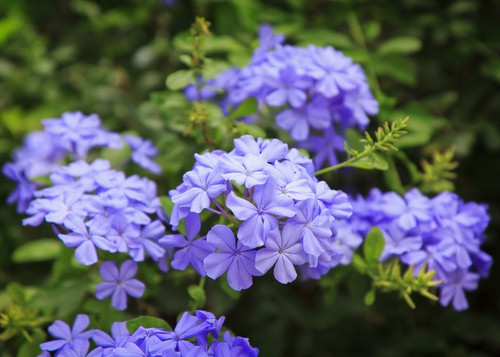 The first of these is Plumbago auriculata which is a scrambling shrub. It works well in a pot, helped up a trellis, or the wall of a conservatory. This scrambling plant brings about stunningly rich, verdant leaves and these are contrasted by the baby blue, star-shaped flowers, which grow brighter towards the tips and a soft white interior. They do require a temperature that remains above 0°C and only need to be pruned once in the spring. Perfect for growing in conservatories but can also be placed outside on a patio during the summer.
You Garden Plumbago auriculata Blue 1.5L Pot 70cm Tall
Gorgeous clusters of pale, sky-blue flowers appear all summer long
Phlox-like flowers that will fill your garden with a gorgeous subtle scent.
Great colour for summer patios - a cool seaside colour.
Thrives in a hot, sunny spot - grow on pots, as they need moving to winter protection below 2°C.
Supplied as established plants in 1.5L pots on a cane, ready to plant out, about 70cm tall.
---
2. Stephanotis floribunda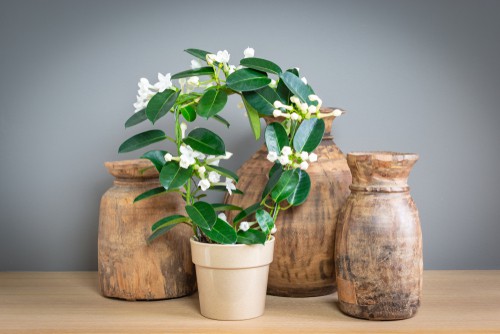 On the note of star-shaped flowers, the Stephanotis floribunda is another stunning houseplant that provides white flowers, small in size, not more than 5cm each. The waxy flowers are known for their rich fragrance and the dark foliage on which they rest. These can handle slightly more humid conditions, with temperatures around 10°C. The shoots should be cut in half around spring but it requires no hard pruning. 
Plant Theory Stephanotis Floribunda Bow Plant 40cm Indoor House Plant 12cm Pot (No Ceramic Pot)
Fresh From The Nursery, Low Maintenance & Easy to Grow
Planting Tip - Use as a centrepiece for a dining or side table
Preferred Location - Happiest in bright indirect or filtered light
Watering Requirements - Water twice a week
Our house plants are all grown in optimum conditions to ensure healthy, happy plants. Your plant will be sent directly from our specialist tropical nursery based in England.
---
3. Passiflora x exoniensis
Passionflowers are always a popular choice, but this hybrid is particularly breathtaking. The passion flowers are a rich rosy red in colour and about 10 cm in size. They bring you flowers in summer and autumn followed by passion fruits that are around. They require temperatures above 1°C. 
---
4. Pandorea jasminoides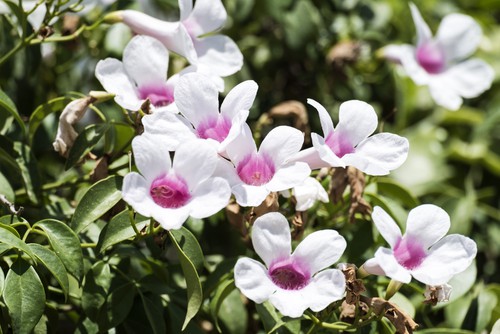 For rich scents in your conservatory, you can invest in the Pandorea jasminoides which produces scented, tubular white flowers in spring and summer. The inside of the flowers has bright pink throats. These plants flower particularly well if they are grown in pots and this is why they thrive in conservatories. You can keep them pruned to encourage ample flowering, and grow them in areas where the temperatures remain above 5°C. 
No products found.
No matter which of these, or others, you choose, you will find that your conservatory is full of stunning flowers, and rich scents all year round.
Other related articles you may be interested in
Large plants that make an impact indoors
The best houseplants for shade
The best houseplants that actually clean the air
Last update on 2022-03-17 / Affiliate links / Images from Amazon Product Advertising API