Last updated on January 21st, 2020
Our site is reader supported, this means we may earn a small commission from Amazon and other affiliates when you buy through links on our site.
There are many plants you can integrate into your home, but some of the better plants to have include plants that literally clean the air for a healthy home environment. When you include any of these in your home it helps to purify the air, making it easier to breathe and better to sleep.
NASA recently did a study on airborne toxins, dusts and germs but what most people don't realise is that many are found in common household products and furniture and can be the cause of many health problems but you can combat this by including some of the plants we show below into your home. We start off with one plant that NASA list as one of the best air purifying plants the Spathiphhyllum, commonly known as the Peace lily.
Spathiphyllum (Peace Lily)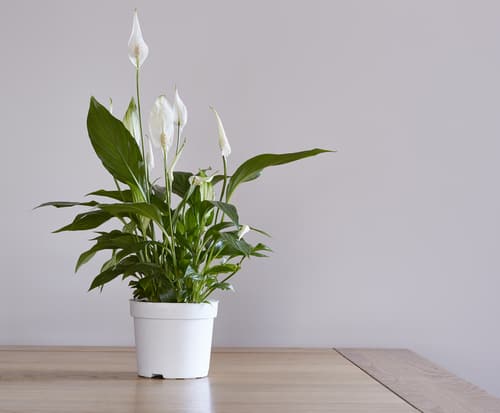 Peace lilies are not actually lilies at all, but they will naturally clean the air in your home, making them an ideal tropical plant to grow for air purification reasons. Thankfully, when grown indoors they won't exceed 1 metre in height and do well with medium, indirect light exposure which means the like a bright room but not directly in the window. While cleaning your air the glossy green leaves will reveal stunning white blooms that can last up to 2 months. This plant was actually listed on NASA's list of "Top Ten Household Air Cleaning Plants." It's worth noting that they are generally pest and disease free but can get aphids and spider mite, we recommend spraying with an insecticidal soap at first signs.
---
Chlorophytum comosum (Spider Plant)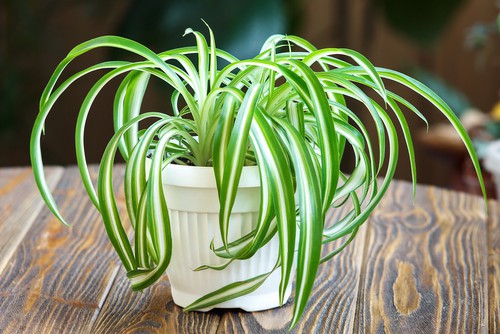 The spider plant is probably one of the oldest house plants to be used as indoor house plants, a native of South Africa, it is a very common house plant as it's so easy to grow and care for. Many beginners cultivate these because of how tolerant they are, but more importantly, they will clean the air you breathe. These plants grow long leaves and that is a mixture of white/yellow striped centres with rich green borders. The thickness of the green border can vary as the leaves mature, giving it a wonderful two-toned appearance.
---
Ficus elastic (Rubber plant)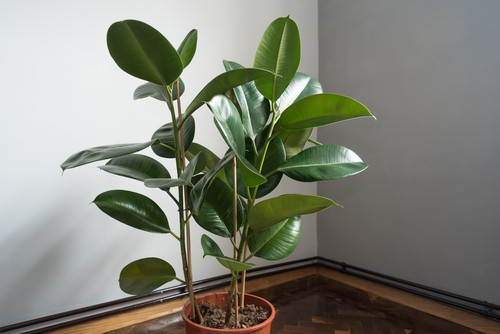 The rubber plant is a wonderful plant of rich green colours a dis another very popular house plant and one that you can take cutting using the water in a jar method we did a guide on here. Known for producing rubber from its sap, you can grow a plant in your home without the worry of sticky sap for at least 7 years. These are so hardy that they will last one hundred years or more in nature so they are very long-lasting plants that can grow to a substantial size. When grown in your home they need lots of indirect light which means not in front of a window which gets sun all day, well-drained soil, and shouldn't be moved from their original place. So when you grow one in your home, be sure to find the perfect spot-ample indirect light and limited fluctuations in air or temperature so that the plant can settle in. The toxins they are known to remove are xylene, benzene, formaldehyde and trichloroethylene.
---
Areca Lutescens (Palm tree)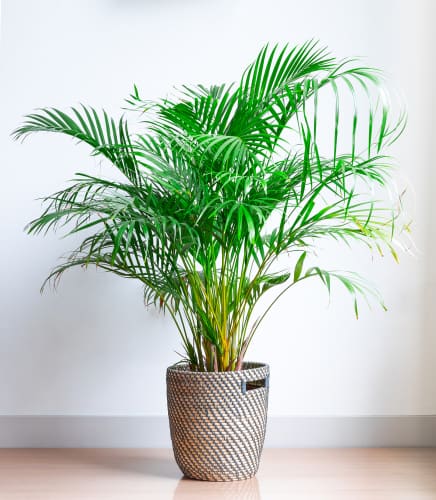 This palm tree is one of the most widely used indoors to add brightness and colour as well as removing formaldehyde and xylene. The canes are golden yellow if given full sun which gives it a striking look against the green foliage. The plant is generally disease-free for the most part and has been deemed one of the top 10 purifying plants by NASA. It produces feathery fronds that arch, each containing upwards of 100 leaflets sure to demand attention.

---
Pineapple Plant Corona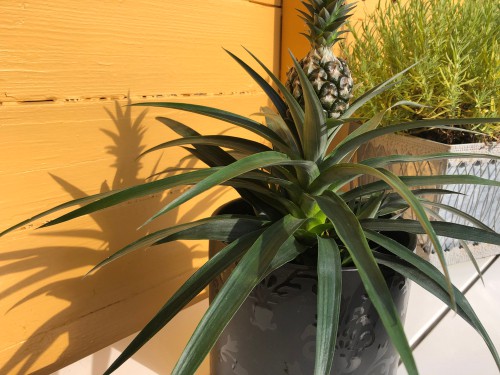 This pineapple plant gives the beautiful green, long, slender leaves of most house plants and can be a great talking point as they are so unusual. It can be grown effectively indoors and will give you an adorable pineapple on top, and yes they do get pineapples in the UK with a little patience but it is not for eating. The pineapple we eat comes from specific varieties changed to give off a sweeter flavour. Natural varieties tend to be too bitter. While these plants do not actually clean the air like other plants on this list they do produce oxygen and boost air quality at night and NASA even found that it can reduce snoring.
---
Dracaena Deremensis (Dragon Tree)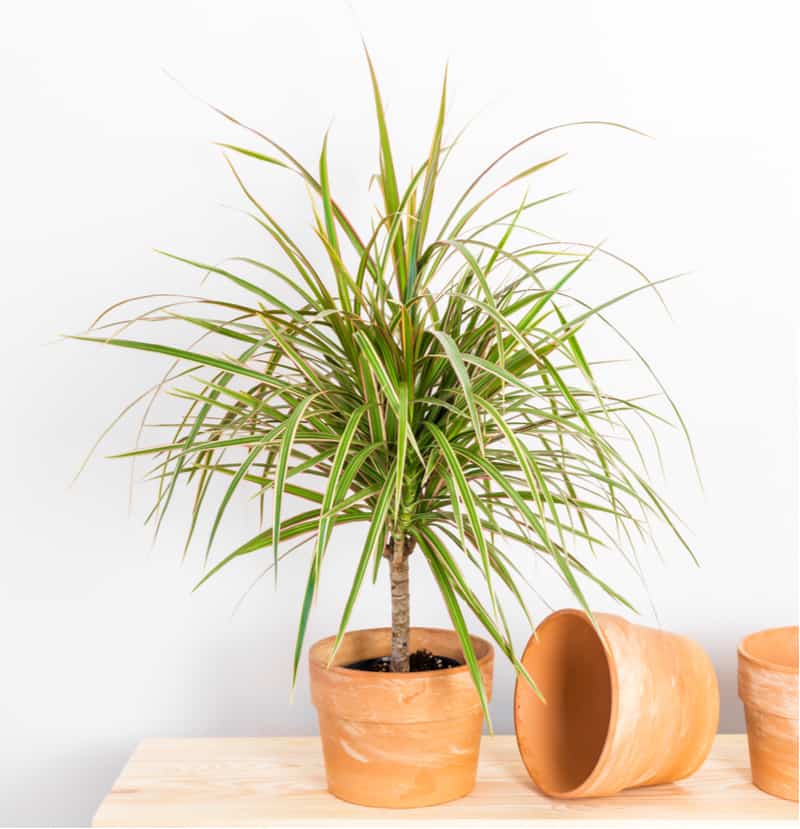 The stunning dragon tree will not take up a lot of space in density, but it can grow up to 2 metres in height if allowed and is believed to remove toxins including xylene, trichloroethylene, and formaldehyde. The leaves grow in large, thin strips of green that branch out of a single stem. You can keep them in your home in small pots and they will remain smaller but you can get larger varieties that grow as tall as 15ft. It is a wonderful way to keep your air clean, but if you have indoor dogs or cats be advised that it is toxic to them if eaten.
---
Ficus benjamina (Weeping Fig)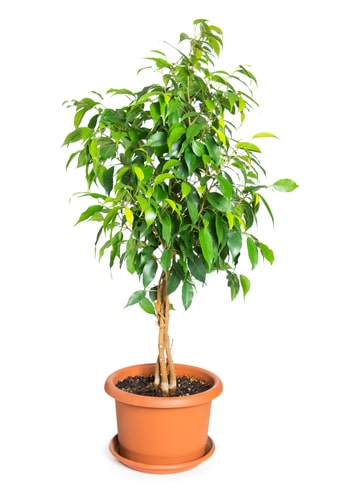 The weeping fig is a popular house plant for homes and offices alike and is another plant that was featured on NASA list of air purifying plants. The dark green foliage grows in elegant, dense shapes. The slender branches take on an arching appearance which can reveal the trunk underneath. It is an evergreen perennial that requires rich, fast-draining soil. The pH levels can be acidic to neutral so any house plant compost would be perfect. It needs filtered, bright sun. As long as it gets regular, optimum conditions you can enjoy the purification the ficus has to offer. You will know when it is stressed, however, because the leaves will start to shed prematurely. It like a good drink once a week allowing the soil to dry before watering.

---
Sansevaria – Mother in Laws Tongue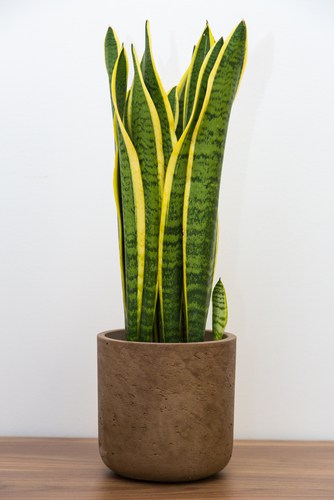 This plant is popular as a house plant not just because of its air purification but because of how easy it is to grow which it is often seen in office building. You can grow many sizes in all areas of your home, keeping one in each room if you so choose. Moreover, they are used by NASA for air purification. These plants have been shown to remove benzene and formaldehyde from the air.
---
Aloe Vera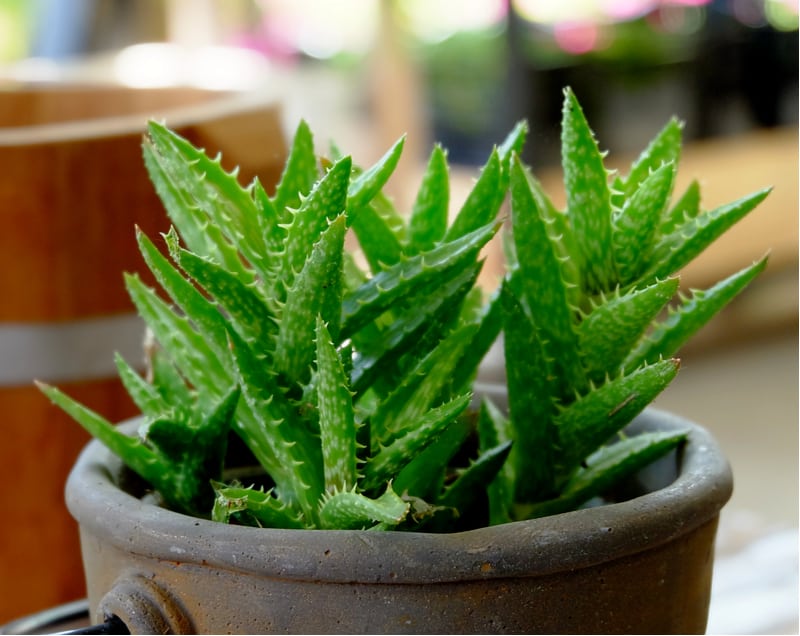 Aloe vera is a succulent you can grow indoors to help purify your air and if often associated with helping relieve sunburn and wounds. The long stems of the plant take on the thick spikes of common succulents and bring a calming green, dashed with cream at times, to your home. They do best in dry conditions however with access to direct light so be sure to put them in windows that get regular sunlight throughout the day if you want them to thrive.
---
Anthurium andraeanum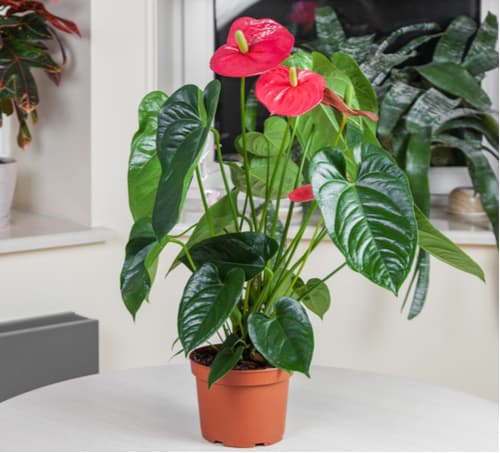 These stunning plants do quite well indoors as long as you give them the right conditions and they don't like the cold. One of many air-purifying plants, they need indirect, bright light. They can be put shadier areas but you won't get as many flowers. They should not be placed near a radiator though which is worth noting. If you love it warm in your home, these plants will too and the flowers are spectacular. They prefer temperatures around 20 degrees Celcius and nothing below 16 degrees and usually so well in humid environments such as a bathroom or kitchen. With the right care and some food, they will produce new flowers all year round but most of the time you get three months of flowers, three months of rest, and repeat. The shinier the leaves, the happier they are and the purer your air will be as they remove Formaldehyde, Ammonia, Xylene, Toluene.
---