Last updated on September 6th, 2021
Our site is reader supported, this means we may earn a small commission from Amazon and other affiliates when you buy through links on our site.
Appear to get a start on the flower growing season with an artificial hanging basket or two. Proudly display them as artificial flowers or choose your artificial hanging arrangements in colours to match your garden scheme and replace them with real flowers when they're in season or simply display them all year round so you can spend less time replacing them and more time doing the things you enjoy.
We review the best hanging baskets that have used the most popular flowers, (plus a surprise or two) listing their pros, cons and features. We haven't given specific recommendations for each basket as your choice depends solely on what flowers and colours you're looking for. In case you're still not sure of whether an artificial hanging basket is for you, our Buyer's Guide discusses the advantages of these low maintenance decorative flower arrangements.
BEST PICK
GreenBrokers Purple & Yellow Artificial Hanging Baskets with Pansies
The GreenBrokers Purple & Yellow Artificial Hanging Baskets come in a set of two baskets. This arrangement contains pansies, which is one of the most popular flowers for hanging baskets. The silk purple and yellow pansies are surrounded with greenery to fill out the arrangement. Artificial grasses are also part of the design and serve to add height to the structure, which is not something usually found in hanging baskets. The basket itself is of woven rattan in a circular shape that fits in with every garden décor. You can also choose from four other colour schemes, including all-white and twin colours (with white). This hanging basket set is a good choice if you're looking for a traditional basket arrangement.
RUNNER UP
Eternal Bloom Large Cone Hanging Basket Artificial Mixed Wild Flowers
The Eternal Bloom Large Cone Hanging Basket provides an exciting collection of silk wildflowers, all in a blue and purple colour palette. A few light pink flowers are in the mix for contrast. The natural wicker woven basket is itself a visual delight as it's a cone shape. Taken together with the rounded top of flowers, it all reminds you of an ice-cream cone. Some of the flowers trail down the cone to visually connect the entire arrangement. There's an alternate colour option that has mostly orange, red and yellow flowers in it. This is a great hanging basket for those whose garden landscape is of a more natural design.
---
Best Artificial Hanging Baskets reviews
1. GreenBrokers Purple & Yellow Artificial Hanging Baskets (set of two)
BEST PICK
The GreenBrokers Purple & Yellow Artificial Hanging Baskets Pansies and Decorative Grasses come in a specific colour scheme and basket type. However, you also have the choice of four other colour schemes (at various prices) from the same sales page, including an all-white selection. Remember that you receive two identical baskets in your purchase.
This artificial flower arrangement is in two different colours of pansies, each in their own part of the circular rattan basket. Interspersed between the faux silk flowers is some broadleaf greenery. Visual height is added to the arrangement through decorative grasses that rise above the flowers. The metal hanging chain and hook is included in your purchase.
GreenBrokers Purple & Yellow Artificial Hanging Baskets Pansies and Decorative Grasses (set of two) is the Best Pick in our hanging basket review. We like the traditional pansies plus the decorative grasses, and the wide choice of colour schemes. Plus it's a set of two so you have matching baskets.
Pros
Set of two baskets for matching placements on either side of a door.
Silk pansies in yellow and purple with greenery among and below them.
Faux decorative grasses add visual height to the arrangement.
Woven rattan circular basket with silver metal chains and hanging hook contains everything.
Also available with all white flowers, purple and white, yellow and white, or pink and white flowers.
Suitable for both indoor and outdoor use.
Dimensions: 25cm (basket diameter); 14cm (basket height); 34cm (diameter arrangement) and 52cm (from bottom of basket to top of hook).
Read next: Best artificial topiary plants to compliment your hanging baskets
---
2. Eternal Bloom Large Cone Hanging Basket Artificial Mixed Wild Flowers
RUNNER UP
This Eternal Bloom Large Cone Hanging Basket contains a selection of artificial wild flowers in a palette of different shades of blues and purples with some light pinks for contrast. This fits in with any cool patio or garden colour scheme that uses one or more of these colours.
The flowers are arranged to some height in a cone shaped basket made of woven wicker, with some of the flowers overhanging and trailing downwards. A few sprigs of artificial ivy also hang down, drawing the eye to the unusual basket shape. The triangular shape of the basket plus the rounded cone of the flowers brings to mind an ice-cream cone.
Some online reviewers remark that whilst the flowers look great, the artificial ivy does look fake so you may want to remove or replace it. In addition, the florist's foam put inside the cone basket to hold the flowers isn't trimmed to that shape. You may want to remove it and cut it down from its rectangular shape to give it a better fit. This arrangement comes with bark to add weight and to also cover the florist foam for a more natural look.
If you want a similar wildflower arrangement by the same manufacturer but with some warmer colours in it (reds, yellows and oranges), check out this one. Notice that this alternate arrangement has a circular basket though and not a cone one.
Pros
Handmade arrangement of artificial wildflowers in blues and purples, with some light pinks as a contrast.
The wicker basket is cone-shaped for visual contrast.
Comes with bark to cover internal florist foam and to add weight.
Silver-coloured metal chain and hook included.
Dimensions: 30cm (basket diameter).
Cons
Ivy doesn't look realistic.
Florist foam is left in a rectangular shape.
---
3. JustArtifical Artificial Silk Pansy Ball Hanging Basket – Blue and White Pansies
BEST PREMIUM PICK
The JustArtifical Artificial Silk Pansy Ball Hanging Basket comes in a selection of five colourways. Our link is to the Blue and White Pansy choice, but there's also an all-white choice, a multi-colour option, and two other twin colour arrangements. The arrangement is handmade to order and online reviewers report that it's more realistic looking than many other artificial hanging baskets.
This silk flower arrangement is "planted" in a circular rattan basket and the 14 flower groups are arranged with faux greenery to hang down and hide most of the basket. They still have height though, so the total arrangement is sphere-like.
The JustArtifical Artificial Silk Pansy Ball Hanging Basket – Blue and White Pansies is our choice for Best Premium Pick.
Pros
Arrangement of artificial blue and white pansies in a circular rattan basket.
Flowers made of silk and hand planted in a basket.
Lots of greenery between the flowers give bulk to the arrangement.
Choice of five colour themes – single, twin and multi-colours.
Metal chain and hook included.
Dimensions: 12cm (diameter of basket); and 50cm (width of arrangement) and 60cm (bottom of planting to top of hook).
---
4. Selections Set of 2 Artificial Lavender and Eucalyptus Topiary Hanging Baskets (25cm)
The Selections Set of 2 Artificial Lavender and Eucalyptus Topiary Hanging Baskets (25cm) offers a different flower arrangement from the usual pansies and petunias. This basket contains artificial lavender blossoms in dark purple and in lilac. In the centre of the basket and pointing upwards are springs of eucalyptus; the rest of the space is taken up by small leaf greenery in a different shade of green. Everything is UV-resistant and weatherproof. This is a good choice for you if your neighbours know that you like to plant unusual flowers in your garden.
The basket is also made of plastic and looks like two different natural materials coiled together. There's a third different form of plastic material on the rim. As all the flowers and foliage in this arrangement are above the rim of the basket, this interesting basket is in full view.
Pros
Flower and foliage arrangement of lavender and eucalyptus that's UV-resistant.
Two different tones of purples for flowers and greens for foliage.
An interesting coiled plastic basket is circular.
Comes with galvanised metal chain and hook for hanging.
Dimensions: 25cm (diameter of basket).
---
5. Smart Garden Petunia Hanging Flower Basket Artificial Outdoor Garden Decoration
The Smart Garden Petunia Hanging Flower Basket Artificial is different from the other baskets we review in that it contains petunias rather than pansies. As both of these flowers are hugely popular in IRL hanging baskets, these baskets can still fool your neighbours.
The petunias in this arrangement are in more pastel shades of colours than the pansies in our other reviews. They're in pale pink and then a slightly darker purple. The flowers and the plentiful greenery trail over the side of the 30cm coiled basket as well as rising in a mound upwards. Everything is UV-resistant as well as weather-resistant so you can leave the basket outdoors in good and bad weather.
Pros
Artificial silk hanging basket containing petunias and greenery.
Pastel pink and mid-tone purple flowers for a gentle look.
Coiled circular basket.
Dimensions: 30cm (basket diameter).
---
Buyer's Guide
Artificial hanging baskets have several advantages over real flowers that may not be immediately apparent. In this Buyer's Guide, we detail some of the most important features that these faux flower arrangements have to offer.
Instant colour
Once your order has arrived and you have unpacked your artificial hanging basket, you have instant colour. And not just any colour, but the one or ones that you need to complement your garden or interior décor.
Your favourite flowers anytime, anywhere
Many hanging baskets contain pansies or petunias which are the most common flowers found in these arrangements in real life. We also found baskets with wildflowers, wisteria, roses, lavender and several other flowers – and in different colour combinations. Choose your favourite flower or try out an interesting looking bloom.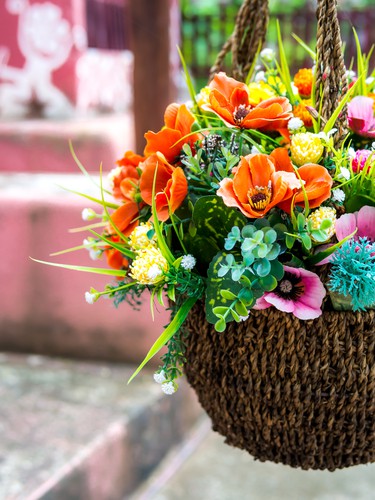 You don't have to worry about where you put your artificial hanging basket. Most of them are UV-resistant and weather-resistant, so the colour shouldn't fade too quickly and the blooms are long-lasting. They don't need sunlight and can withstand rain. Don't worry about how hot or cold their environment is.
You can put a faux hanging basket anywhere in your home or garden, anytime during the year.
Hypoallergenic / allergies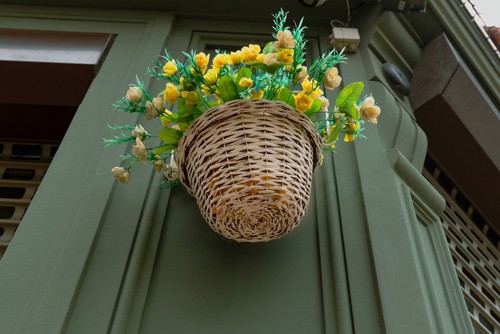 Some people are allergic to flower pollen, especially in the spring when the hay fever season starts. And flowers often trigger asthma attacks too. Artificial flowers have no pollen so you and your guests can safely sit and enjoy the flowers without fear of running noses, red eyes and headaches.
Design freedom
Use your creativity to select flowers for your hanging baskets that usually don't grow together or perhaps can't even grow in your climate. These make an awesome display and have your neighbours wondering at your gardening prowess. The wildflower hanging basket in our review offers flowers that are normally seen in grass verges along roads.
Mix and match your hanging baskets or change them up every so often.
Low maintenance
Real plants need care and attention, all the time. They need to be fertilized, placed in the right amount of sunlight, and watered to a regular schedule. They drop their leaves and the blooms fade.
Just hang up your artificial flower baskets, stand back and enjoy. You may want to dust them occasionally and fluff them up a bit to keep them looking their best.
Pet friendly
If you have a pet, maybe a dog or cat, then you have to know whether your hanging baskets contain flowers that are toxic to them, just in case they jump up and eat the flowers. The artificial silk flowers in the baskets in our reviews don't present the same problem.
---
Final Conclusion
Having flowers around at any time of the year is good for both your mental health and for your surrounding environment. Artificial hanging baskets are a good choice if fresh flowers are not an option – maybe it's the wrong season or you don't have the time to care for real flowers or you're not good at keeping plants alive. Hanging baskets keep the flowers away from the exploring fingers and paws of children and pets. And all our choices in this review are suitable for indoors and outdoors so you can appreciate their colourfulness all year long.
Our Best Pick is the GreenBrokers Purple & Yellow Artificial Hanging Baskets Pansies and Decorative Grasses (set of two). You receive two matching baskets of pansies and other colour combinations are available as well.
Our Runner-up choice is the Eternal Bloom Large Cone Hanging Basket Artificial. This is a lively arrangement of faux wild flowers in various shades of blues and purples.
If artificial plants work well for you, check out our Best Artificial Boxwood Topiary Plants review as well.
And if you decide that you do want to plant real flowers, after all, we have great advice and information for you. See our How to plant a summer hanging basket – step by step, How to grow petunias in hanging baskets and our How to make and plant hanging baskets articles.
Last update on 2023-12-09 / Affiliate links / Images from Amazon Product Advertising API