Last updated on January 24th, 2022
Our site is reader supported, this means we may earn a small commission from Amazon and other affiliates when you buy through links on our site.
Don't we all just love when Halloween comes around?! The sweets, the gruesome costumes, the creepy decorations of ghosts and witches and of course what is better than carving your very own pumpkin and hosting your very own Halloween party.
We have put together 10 of the most outstanding and insanely brilliant pumpkin ideas for your next Halloween party.
10 Gruesome Yet, Awesome Halloween Ideas
If you want to feature a pumpkin massacre you can take your inspiration here, this one below was made by 'Erratic Project Junkie' and features a gruesome killing field in which a monster is eating a baby pumpkin and the rest are fleeing in fear.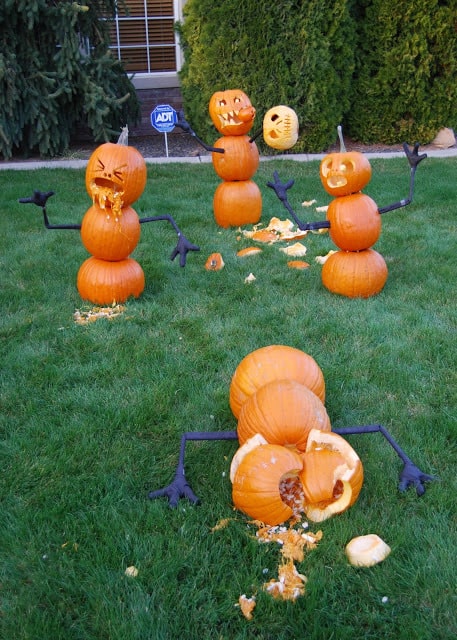 These pumpkins by 'Country Living' (pictured below) look as though the skeleton hands are reaching from the grave. This design would make an excellent feature for putting along the pathway to your front door.
This stacked pumpkin topiary by Jen at 'Tater Tots and Jello' looks amazing and adds a little feature to the side of a door with great effect. They are actually pre-lit craft pumpkins but look amazing all the same. They are kept together with a simple broom handle. A simple, yet brilliant idea.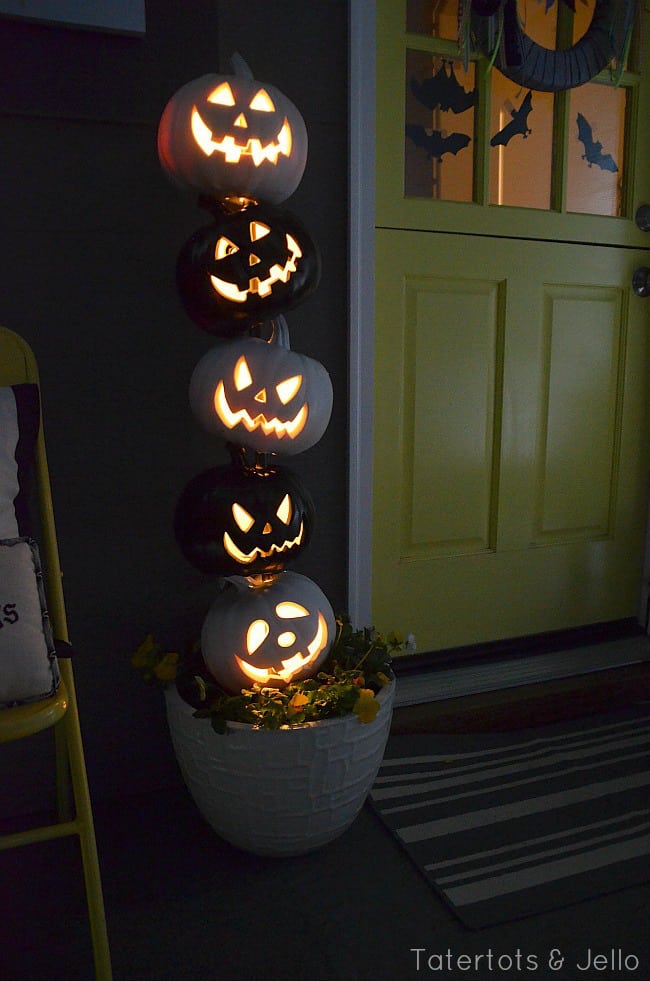 This Pumpkin Ice Bucket from 'everyday day dishes' is an excellent idea for keeping the drinks cool at your Halloween party. Simple yet still effective, this is one idea that every Halloween party should feature.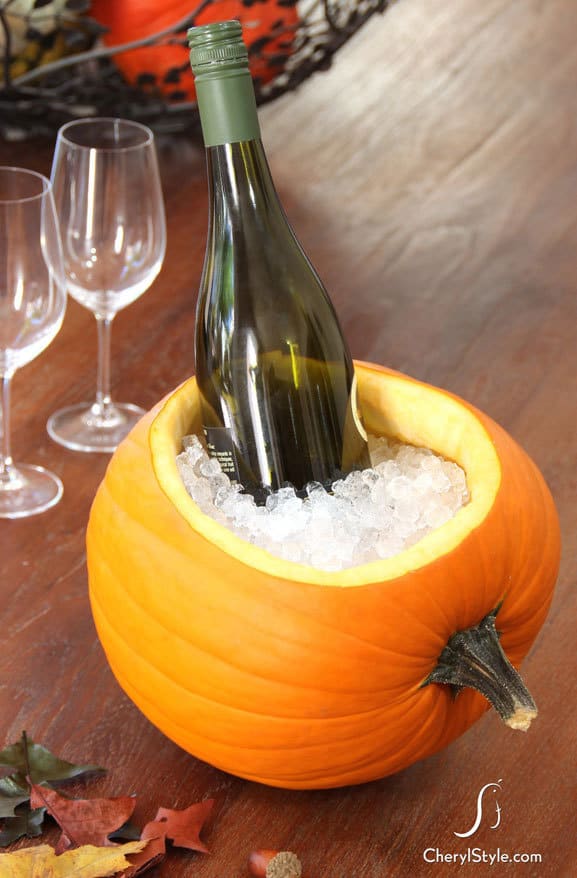 If you have got a fireplace opening in your home, why not try adding this clever design and brighten up your fireplace with this brilliant idea we found on 'Remove and Replace'.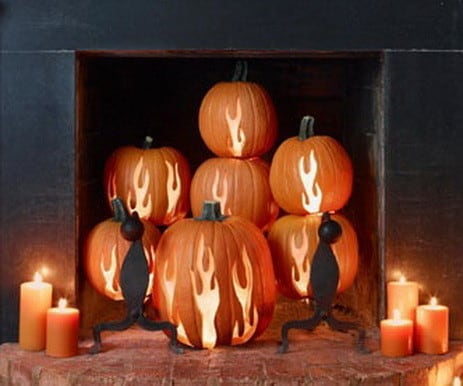 This is just awesome, your very own smoke-producing pumpkin by 'Infact' on 'HubPages'. This is actually quite easy to do and you will not need a smoke machine to achieve this. A few simple household items, dry ice and you are good to go. To see how to make this don't forget to visit the 'Infact' page on 'HubPages' here.
Another idea from 'Remove and Replace' is this fantastic Man-eating pumpkin. Very simple but so, so effective and it will definitely have the neighbours talking! All you will need is an old jacket, some jeans and some dummy hands. Don't worry if you haven't got these lying around though, it isn't a problem as you can just use gloves.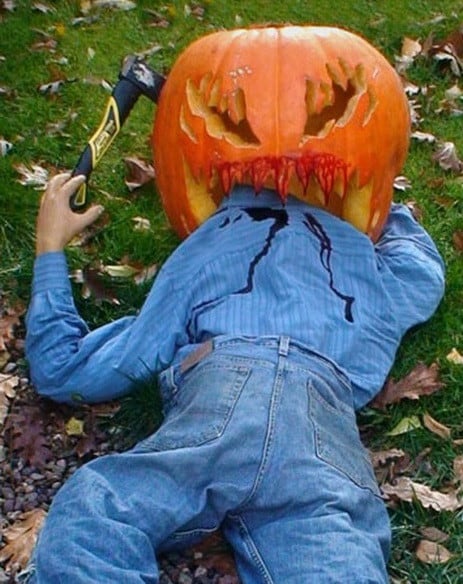 This idea is a must-have for any Halloween party. Oh so simple and yet it will be one that all your guest will love. It is the brilliant idea from 'Listotic' and you can see more of their great Halloween ideas here.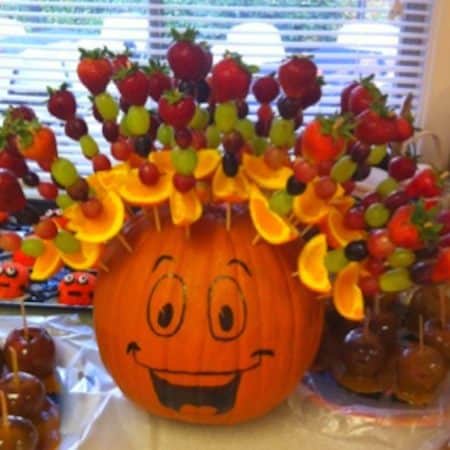 These last two designs are more great examples from 'Remove and Replace'. The 'Spider Pumpkin' is very simple and easy to make (no carving needed) whilst the 'Baby Eating Pumpkin' may take a little more patience to carve out and will look amazing once complete.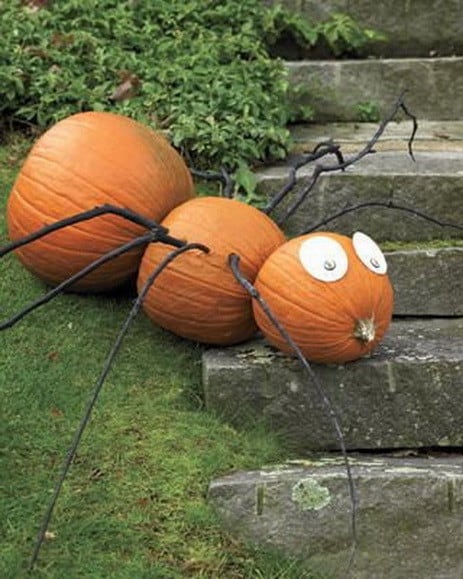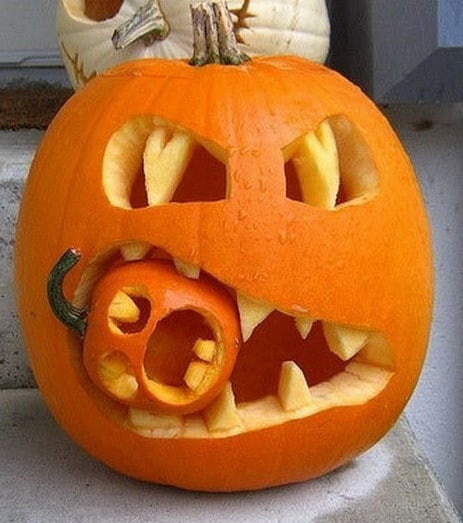 Don't forget to SHARE these ideas with your friends and family!