Our site is reader supported, this means we may earn a small commission from Amazon and other affiliates when you buy through links on our site.
If you have a pest problem, the kind that leaves behind a silvery, slimy trail, then you need eradication. Slugs are not just an annoyance, they eat your plants and leave you with nothing. But not everyone has the time to go through and pick them off by hand, and some people want to avoid pesticides because the plants provide food or the garden doubles as a play area for other members of the family. Rest assured, there are organic ways you can stop slugs from eating your plants.
1. Set slug traps to lure slugs to their deaths
There are many types of traps you can set up that will get the slugs out of your garden. Beer traps are the most popular with home gardeners. The slugs become attracted to the fermentation of beer so an ale or Guinness can be poured into a low container and then put at the edge of your garden bed. Place them at the edge so that slugs and snails hit them first, before your fruits and vegetables. You can also use cardboard, flower points, or grapefruit halves, effectively anything that offers the slugs a dark, moist area for cover. Once they are captured, remove them.
Set of 20 Slug Traps, Hygienic, Disposable and No poison.
This disposable slug trap will help you effectively combat slugs in your garden. The slugs are attracted to the bait. Beer is an effective and simple bait. Or you can buy our Bait Powder - No chemicals. Easy to use and super effective. You don't have to touch the slimy slugs, which can be infected with salmonella.
Slug X Slug & Snail Organic Slug Trap - Twin pack
Simple but effective slug trap baited with beer
Unique design keeps beer fresh longer attracting more slugs
Can be moved around the garden to catch slugs wherever they hide
Use on any flat surface outside in the garden, on the lawn, patio, greenhouse or even inside the house
Will not harm other wildlife. Made from recycled plastic
2. Introduce predators or encourage wildlife into your garden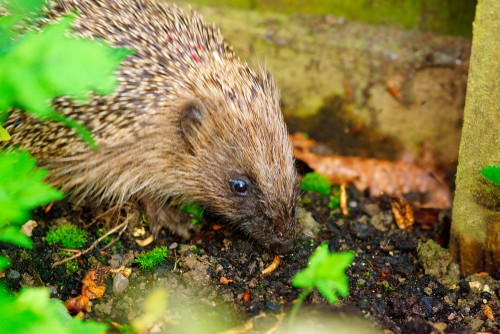 Hedgehogs, ducks, beetles, centipedes, and birds are all great things to introduce into the area if you want to get rid of the slugs without killing them yourself plus you can be happy in the knowledge you are helping your local wildlife.
Read how to encourage hedgehogs into your garden
Learn how to encourage birds into your garden to help control slugs
3. Use slug nematodes which are very effective
One commercial product that introduces predators is Nemaslug. Nemaslug is a special product you apply easily, by simply mixing it with water and watering your affected plants. It is completely organic so it is safe to use in a garden where children or pets play. The product can be mixed and applied on the same day it arrives. It works by releases microscopic worms into the soil called nematodes, and these pray on the slugs and kill them and is one of the best ways to control slugs.
Slug Nematodes 12million (Treats 40sq.m)
Nemaslug is an effective slug killer that is easy and safe to use. It will not affect wildlife and crops may be picked and eaten straight away.
Each pack treats an area of 40 sqm and can be used under-glass all year round or use outdoors when the soil temp is 5c i.e. March to October.
Treat whenever slugs are present and the soil temp is over 5C. This is a perishable product, so order when you are ready to apply.
Apply by watering can or use a hose end feeder / nematode applicator. Store in the fridge until ready to use - it will have an expiry date of at least 7 days.
Kills all slugs both above and below ground for 6 weeks - simply re-apply to keep your garden slug-free.
4. Origins Slug Control
If introducing a predator is not your style, there are other options. Origins Slug Control works by dehydrating the slugs so that they bury themselves and thus leave your plants alone. They use only natural ingredients that last up to 2 weeks with a single application. It is certified by the Organic Farmers & Growers Association for meeting organic standards. The active ingredients all occur naturally in soil, with ferric phosphate as the prime ingredient.
Origins Slug Control is best used no more than 4 times per year, in Spring and Autumn primarily. These are the times when the conditions are wet and cool, and thus more likely to attract slugs. The first time you see evidence of slugs or snails, break out Slug Control.
It is best for small gardens, outdoors when snails and slugs are at their most active. You can apply it to bare soil around flowers, salad crops, and strawberries. Make sure the pellets are applied evenly across every part of the yard you want to protect and don't let them get trapped in the plant leaves. They should be about 8-10cm apart.
Origins Slug Control 450g
One application lasts up to 2 weeks
Slug control reduces unwanted slugs and snails from plants and edibles
Suitable for grow your own crops
Active ingredients occur naturally in the soil
Contains ferric phosphate
5. Form a Perimeter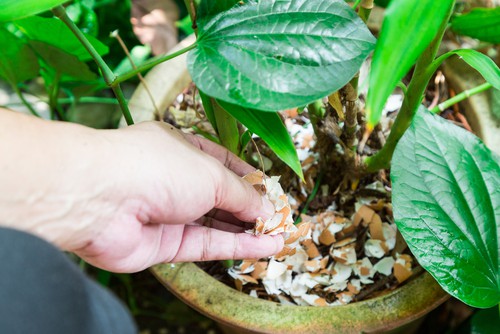 Many people think of salt as an easy way to deal with slugs, but not in your garden. Too much salt will ruin the soil and the crops. However, you can form a perimeter with other materials. Eggshells, for example, make a great deterrent because the edges are too sharp for the slugs to crawl over. Make sure that you remove the inner membrane and wash them before you toss them around your plants. And after it rains, time to replace them.
Copper works too. You can use copper wire or all those copper coins you don't use to create a border. You dig the wire into the ground so that the slugs don't just crawl under.
Slug banned large pack of 10
Protects plants from slugs and snails
Effective and easy to use. Makes 7 inch diam. circle
Safe for you, your children, pets and wildlife
Will go on working for years
Join together to protect larger plants
6. Slug Gone
Another form of border control is Slug Gone. Slug Gone is made from wool pellets which form a natural barrier that irritates the slugs and prevents them from reaching your plants. Nothing is harmful, the product is in fact completely biodegradable. The fibres are all hygroscopic.
This product is made from 100% wool so it is a perfectly suitable method for organic gardeners. It is certified as such by the Soil Association. It won't contaminate the soil, making it suitable for any area of your yard where you grow fruit or vegetables. It is also chemical-free so you can use it in any area where children and animals play, or where you often have birds, bees, or other wildlife visit.
To use, just place the pellets around your plants and add water. They will solidify and form a protective mat that keeps away slugs and snails. This brings with it the added benefit of reducing weeds, retaining moisture and concurrently reducing water evaporation in the sun. What's more, it has nitrogen, sulphur, and potassium which gets released into the soil, making it an even healthier environment for your plants.
Vitax 5L Slug Gone Natural Wool Barrier Pellets
Vitax Slug Gone Wool Pellets Effective Slug & Snail Barrier Organic Safe 5
Suitable for Organic gardening
Safe to use where children and pets have access
Derived from British wool and supplied in pelleted form
Simply lay the pellets on growing media around the stem of plants and wet Improves moisture retention Help protect against cabbage root fly
Overall, your best methods for eradication include setting up a barrier or perimeter the slugs cannot cross, removing them yourself or with the help of a natural predator, or using a product that deters them from eating your plants. Remember to apply your method of choice as soon as you notice the slug problem.
Last update on 2021-04-18 / Affiliate links / Images from Amazon Product Advertising API