Last updated on January 28th, 2022
Our site is reader supported, this means we may earn a small commission from Amazon and other affiliates when you buy through links on our site.
Microchipping cat guide
Microchipping your cat is a worthwhile investment and with costs kept to a minimum, usually around £20 – £30 but sometimes even as low as £10, it's hard to think of a reason why you would not want to have your cat microchipped. Especially with the peace of mind that it offers.
Why should you get your cat microchipped?
If your cat goes missing, whether it be while out roaming or heaven forbid, stolen and is found before being taken to a local vet or cat rescue centre, without a microchip it can be impossible to locate the owner. There are of course collars with tags but these can come loose and fall off and even worse, it causes your cat to get stuck somewhere trapped by its collar. Either way, microchipping is a much better option.
This is where microchipping comes in, because if your cat goes missing and is found and taken to a vet or local authority, they can simply scan the cat for the presence of a microchip and if they are microchipped it will lead to them getting your contact details. They can then contact you and reunite you with your cat. If your cat is not chipped they cannot do this and you may never see your cat again.
Every year over 250,000 pets (source: petsathome) go missing and a simple microchip would quickly return them to their owners.
It also helps settle deputes as to who the cat belongs to should it be stolen or taken in as a stray.
Microchip cat flaps
You can also fit a Microchip cat flap. These are the best types of cat flap available and they are very reliable because as they only open for your cat and stop neighbouring cats from entering your home, they also have lots of other features.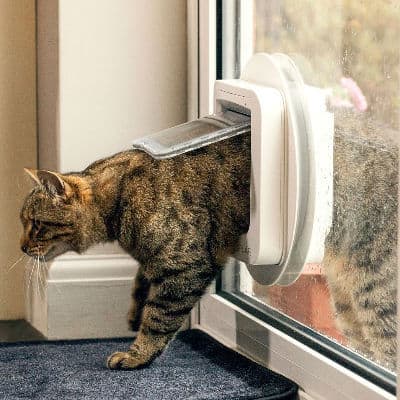 Do you need to have your cat microchipped?
At the moment only dogs need to be microchipped by law and although it is not the law that cats need to be microchipped, it's strongly recommended that you do.
What is a microchip?
A microchip is a small electronic device that is not much bigger than a grain of rice that holds a 15 digit code. It's simply inserted just underneath the cat's skin and does not cause any pain or problems. If a cat is found and taken to the vet, a cat rescue centre or somewhere similar, they can simply scan the cat with a special scanner and can inform the owner that their cat has been found and return it to them. Once a cat is microchipped it will last the lifetime of the animal.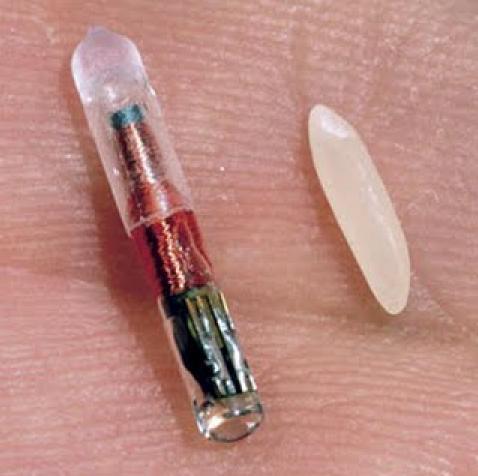 Where can I get my cat microchipped?
Most vets have the facilities to safely microchip your cat, some catteries and cat rescue centres also microchip cats as well.
The price of getting your cat microchipped
To have your car microchipped you can expect to pay between £20 and £30 for the procedure.
Free cat microchipping
Sometimes local charities such as the RSPA will offer to microchip cats for free, especially when running a campaign to spread awareness, however, you would need to contact them to see if they are offering free microchipping.
Cat microchip database
When you get your cat gets microchipped all that is stored is a long digit number. This number is linked to a database that holds all your contact details. Your personal information is safe and will only be used to contact you should your cat be found.
How to find a lost cat with a microchip
If your cat goes missing, your first port of call should be to contact local cat rescue centres and vets to see if your cat has been brought in. Other than this, if your cat is found you can be confident that it will be returned to you if chipped.
Can I track my cat with a microchip?
A microchip cannot be used to track a cat's position, they can only be scanned should your cat be brought into a rescue centre or vets, however, this allows the vets to contact you so you can be reunited with your pet.
Always remember to update your microchip information if you move house.