Last updated on March 7th, 2022
Our site is reader supported, this means we may earn a small commission from Amazon and other affiliates when you buy through links on our site.
Rosemary is a perennial shrub but has needle-like leaves growing off each stem and is oven mistaken for Lavender. If allowed (to flower) it will produce blue flowers at the top of each stem which only adds to the beauty and colour provided. A very aromatic herb, it brings with it a delightful flavour and scent perfect for many a cuisine and is commonly used in cooking recipes. Having fresh herbs on hand can make cooking much more exciting what's more, Rosemary can be grown in so many fashions, from rock gardens to containers on the patio, and best of all it is very easy to grow.
Planting Rosemary
When you plant rosemary you can choose to plant in containers, approximately 30cm across is ideal for single plants, or into your garden directly, however, they don't like having wet roots so well-drained soil is best, even if it is a little dry.
Container gardening is a wonderful way to maintain herbs and allow your garden to be filled with rosemary without having to tend to your herbs as often. The reason is, it grows very quickly and will manifest itself into a fairly large bush, sometimes pushing out nearby plants if you grow it in the ground. This does not mean you cannot effectively grow them in the ground, by all means, you absolutely can so long, as you give them enough space and harvest it regularly, which also helps keep them in good shape.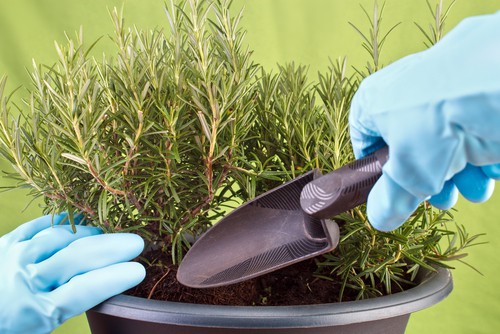 Regardless of the location make sure that you have soil that is warm, gets regular sunlight and is well-draining. Rosemary can grow upwards of a metre in height and spread so you want to give it enough room to grow if you are putting it in your garden directly. It's a wonderful companion plant for other herbs and you can also plant them next to things like cabbage, carrots or beans.
---
Rosemary Care
When caring for your Rosemary the most important thing you need to do is to regularly trim the plant. This falls under harvesting or pruning depending on how you look at it. The goal here is to make sure that your plant is not only used but is able to reproduce and expand on a regular basis in a healthy fashion. This also allows for better airflow which helps prevent diseases.
You want to make sure it's pruned regularly so that it also doesn't get too leggy. You can use cuttings or a process known as layering in order to propagate multiple plants in later seasons. Throughout the course of the growing season you want to water your plants evenly but make sure you don't overwater them because they dislike wet roots, especially in winter.
Rosemary is more of a Mediterranean plant so it doesn't do well in very cold temperatures. For that reason, gardeners that live in areas that experience very cold winters will plant their rosemary in a container so that they can be brought inside during the winter. You want to bring it inside so that it stays warm enough and gets a lot of sunlight through a nearby window.
---
Taking Cuttings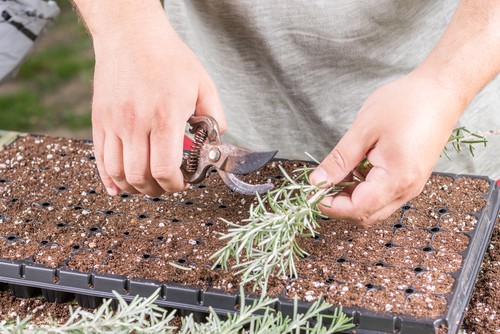 Step 1
You can take a cutting, which is probably the best way to propagate Rosemary, and use that to propagate additional plants. This is much faster than growing them from seeds because they can actually take a very long time to grow from seed.
If you choose to do this, you want to take a healthy, young cutting, no more than 12cm or so in length. Prepare the containers in which your cuttings will be propagated and at this point, you want to fill the container with a potting mixture and perlite to add buoyancy to the soil, the perlite can be swapped for grit if you prefer. You want to mix around 2 parts compost with 1 part grit.
Step 2
Use a pencil or a stick to create a hole straight down into the soil. Dip the end of the cutting (after you have removed all but the top nodes) in rooting hormone and then place it directly into the hole. Cover any remaining area with soil and then water it to remove any air pockets.
Step 3
Place the cuttings where full sun exposure is achieved. After a few weeks, you should have a securely rooted system that you will be able to verify because you should start to see roots appearing from the bottom of the pot. Give them enough time to root and don't be tempted to remove them too early.
Step 4
Finally, you can transfer the plant into a larger container, pot or outside in your garden in spring after the risk of frost has passed.
---
Pests and Diseases
If the soil is not properly drained it can get bacterial leaf spot or root rot. Root rot happens in particular when the soil is not well-drained and when you overwater. This is why you need to be very considerate of the containers in which you plant your Rosemary and how frequently you water.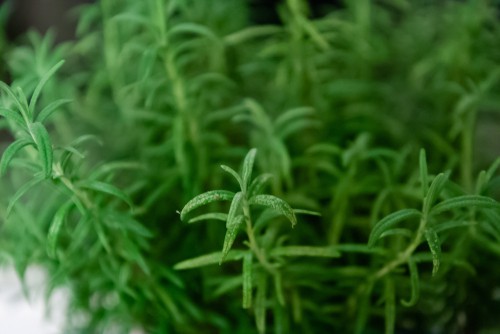 ---
Other problems – Frost damage
Although Rosemary is hardy, a late frost can damage the ends of new growth and will cause distortion or simply kill the tips of the growth.
The only way to try and prevent this is to cover them with fleece if a late frost is forecasted. Rosemary grown in pots can simply be brought indoors overnight into a cold greenhouse or shed.
---
Harvesting
When you are harvesting Rosemary that you plan to cook with, or if you plan to dry your Rosemary and use it in another fashion, you need to pay particular attention to where you make your cut. Rosemary bushes will grow prolifically and you can prune the stems when you're ready to use fresh Rosemary.
If you look at the stem you will see the younger stems that are green and as you get near to the base of the plant you will see the harder, old wood. You want to harvest the young stems and the young leaves that are still green if you want to achieve the best taste.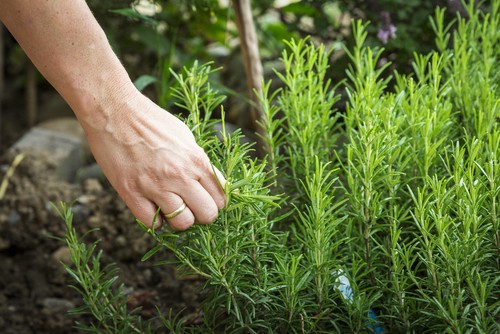 You can, in fact, harvest up to one-third of your plant at any given time as long as you allow ample opportunity thereafter to regrow before you cut anymore. When you do this you can harvest the green growth all the way around and then give the plant the opportunity to grow back. The leaves can be consumed immediately, on an as-needed basis, for your dishes or you can leave them out to dry and then use the dried herbs in your cuisine. Either way, store them in an airtight container.
---
Recommended Varieties
There are different recommended varieties from which to choose.
Salem Rosemary
The Salem Rosemary is a variety that grows quite large and brings with it blue flowers. This tends to grow directly upright.
Blue Boy Rosemary
If you want a small variety that doesn't exceed more than 20cm or so you can choose the Blue Boy Rosemary variety.
The Spice Island Rosemary
A more fragrant option with a deeply pungent flavour is called The Spice Island Rosemary.
Prostrate Rosemary
The Prostrate Rosemary is a variety that is better suited for hanging baskets and can be a great way to grow the more weeping types of rosemary that are starting to become more common.
Image credits – Shutterstock.com