Last updated on April 27th, 2020
Our site is reader supported, this means we may earn a small commission from Amazon and other affiliates when you buy through links on our site.
Euphorbia comprises a large genus of plants inside of which are over 2,000 species so there is literally an endless choice of varieties. Of these, around 1,200 are succulent species that provide some of the most remarkable shapes and look very similar to cacti. They are cultivated because of the range of foliage in architectural shapes they have but only a few are known for the flowers they produce. Those that do produce flowers bloom in the spring or summer and tend to go into dormancy come winter.
Of these non-succulent varieties, the euphorbias are deciduous and the most popular flowering varieties include the traditional Christmas Poinsettia, the poinsettia as grown by most people over Christmas as well as the familiar milkweed also known as Euphorbia peplus.
Hardy poinsettias for rockeries and flower beds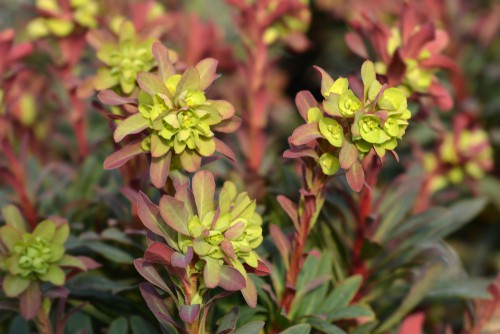 Most of the succulent varieties are not very hardy so they do better in the UK when grown indoors but there are also many hardy rockery varieties too. There are many perennial varieties that provide much-needed winter colour with many being evergreen while some die back for winter before emerging again in spring, these perennial Euphorbia are what most Uk growing will likely want to plant which include varieties such as EUPHORBIA amygdaloides purpura and EUPHORBIA characias.
Easy to care for
Whether flowering or not, euphorbias are quite simple to care for and they require very little care and maintenance once they get established. Once established they are incredibly self-sufficient and won't die from very much besides from too much care or too much watering.
Regular care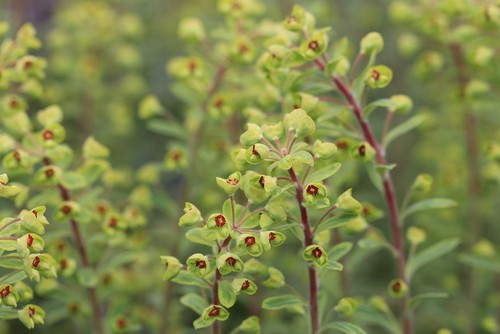 Plant euphorbia in full sun to partial shade
Euphorbias require areas with full sun but they do tolerate partial shade, especially the woodland varieties. If you have a flowering euphorbia, full sun is a necessity to get the most out of the flowers. If you don't give it full sun, the plant will put all of its resources and energy into maintaining itself rather than flowering which effectively defeats the purpose of having a flowering variety in the first place, that being said the foliage of many varieties is equally stunning.
Even though there is very little you have to do to care for the plant, there are some specific requirements to give them the best chance of thriving.
Watering euphorbia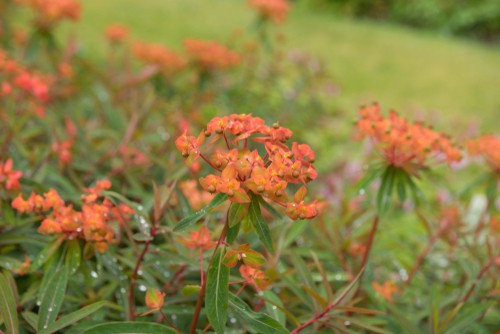 First, unlike other succulents, euphorbia does not tolerate long drought so you need to keep an eye on watering, especially when grown in pots. You'll have to water your plants sometimes weekly during the summer months. Effectively you want to water whenever the soil becomes dry in on surface being careful not to overwater. Once you note that it's dry enough, water it deeply but don't let it sit in the water because this can lead to root rot.
Feeding euphorbia
To help them get established when you first plant them or during their growing season you can add organic matter like compost or fertilizer such as bone meal or fish blood and bone into the soil. If you are growing your euphorbia in a container, you can give it a half-strength fertilizer on a monthly basis.
Vitax Ltd Blood Fish & Bone Fertiliser, 1.25kg
Contains nitrogen and phosphate, with added potash for strong root development
Improved ripening and healthy growth of fruit and vegetables.
With added potash for strong root development
Package Weight: 2.954 pounds
Package Dimensions: 21.0 L x 6.2 H x 13.4 W (centimeters)
Pests and diseases
The good news is, euphorbia are typically problem-free. Very few animals want to contend with the spiky needles or the Milky sap there are known for. It's worth noting that the milky sap can irritate the skin so always wear gloves when cutting them back or taking cuttings.
Mealybugs and spider mites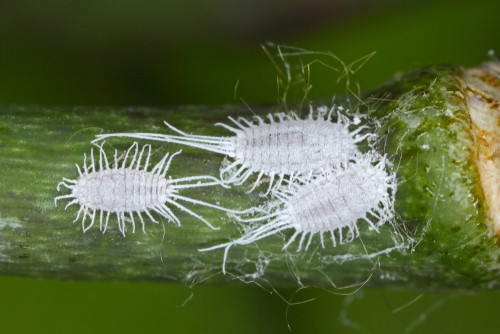 However, there are a few bugs that have taken a liking to euphorbia which mealybugs and spider mites being the most common pests and they will feed on your plant until such time as it eventually dies. These insects increase in numbers very rapidly so it's imperative that you catch the problem early on and rectify it by spraying the plants with a pesticide spray.
Provanto 84436674 Ultimate Bug Killer RTU 1L
Up to 2 weeks control of a wide range of pests
Rapid action and long-lasting protection
Use on flowers and a wide range of edibles
Targets lily beetle, whitefly, scale, greenfly, red spider mite, blackfly, mealybug, thrips and leaf hopper
Use outdoors and indoors
Root rot
As mentioned, they are susceptible to root rot. This really only happens when the plants are in wet soil for too long. By having well-draining soil in limiting the watering until such time as it's dry enough to require it, you can avoid this. Dig plenty of organic matter and grit into the soil if there area does sometimes become waterlogged before planting.
Mildew
There are some issues of mildew if you have bad air circulation. You can correct this by changing the growing conditions to provide better airflow around your euphorbia before you resort to a fungicide but it bad cases try to improve air circulation and spray the plant with a fungicide.
FungusClear 18986 Ultra, 3 in 1 Action, Plant Protection Disease Control, 225 ml
Systemic protection and control of blackspot, powdery mildew and rust
Use on roses and other flowering or ornamental plants
Protects new growth and protects plants for over 3 months, when used at intervals recommended in usage instructions
Use between March to September
Apply using a garden pressure sprayer washed before and after use
Pruning
Euphorbia usually falls onto 3 pruning categories, evergreen varieties just need the flowering trimming when they have finished and turned brown. Varieties with biennial stems which means they flower on the stems in the second year just need to flowering stems cutting back to ground level in autumn. Finally, deciduous varieties which die back for winter need all the stems cutting back to ground level in autumn, ideally before the first frost.
Propagating euphorbia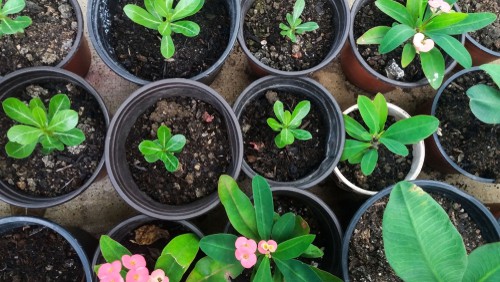 If you have a successful euphorbia plant that you want to propagate, you can technically propagate from seed but this is very difficult to do. The most common way to propagate is by taking cuttings. Be cautious of the fact that the cuttings ooze a sticky, milky white sap that is an irritant to the skin and the eyes as already mentioned so it's important that you wear gloves during this process.
Some of our favourite varieties:
Euphorbia Grandialata will start out in an upright growth and eventually spread into a thorny bush with coral red flower bracts in the summer.
Euphorbia lactea has fan-like branches with black spines.
Euphorbia milii is a thorny, bushy plant that provides floral bracts of red, orange, yellow, and white throughout the year.
Euphorbia obesa is round and plump and it has reddish Stripes. It tolerates some shade.
Euphorbia symmetrica is a smaller, round subspecies of the euphorbia obesa.
Bestseller No. 2
Bestseller No. 3
Bestseller No. 4
Bestseller No. 5
Bestseller No. 6
Bestseller No. 7
Plant World Seeds - Euphorbia Oblongata Seeds
Genuine Plant World Seeds branded packets supplied direct from Plant World Seeds UK
Common Name: Syn. Euphorbia Corallioides palustris zauberflote. Eggleaf spurge. Oblong spurge.
Height: 45-60cm
Packet content (approximately): 20
Too rarely seen or grown, the "Coral Spurge" a non-running clump former, has dazzling yellow flowers and bracts in dense profusion on massed wiry stems. These are produced from earliest spring until early winter, making this fabulous and attractive plant one of the longest-flowering and valuable of commercial cut flowers too. It is synonymous or very similar to Euphorbia Corallioides, the two species being to all intent and purpose indistinguishable when grown together.
Bestseller No. 8
Bestseller No. 9
Bestseller No. 10
Beautifully Coloured Euphorbia Polychrome Bonfire Shrub Plant 30-40cm Tall 3 Litre Hardy Evergreen Spurge
30-40cm Tall Euphorbia Plant (all photos taken of the actual plants)
Details: Euphorbia polychrome, commonly called cushion spurge, is a mounding, clump-forming perennial which typically grows in a dome (or cushion) shape to 12-18" tall and as wide on erect, sturdy stems bearing oblong, downy, medium green leaves (to 2" long)
Cymes of inconspicuous greenish flowers (lacking both sepals and petals) bloom at the stem ends in spring. Although the flower cymes are not showy, they are subtended by long-lasting, bright sulphur-yellow bracts which are exceptionally showy. Stems exude a toxic, milky sap when cut. Leaves turn red in autumn.
Ideal for Pots and Containers in the Patio or Garden
Beautifully coloured evergreen shrub
Last update on 2021-10-16 / Affiliate links / Images from Amazon Product Advertising API