Last updated on March 22nd, 2022
Our site is reader supported, this means we may earn a small commission from Amazon and other affiliates when you buy through links on our site.
September marks the official transition into autumn and with it, it is time to start dividing your perennials, planting autumn and winter bedding to take you into spring, and harvesting any crops you have left.
Top jobs for September
Harvest those last crops, including onions and store them in nets. Store fruits like apples if they store well.
Plant bedding plants such as pansies, violas and cyclamen for autumn and winter colour.
Continue deadheading and feeding summer plants to keep them flowering.
Start dividing and replanting any perennials that have become overcrowded.
Plant last-minute vegetables.
Pick autumn raspberries.
Collect any seeds from perennials or hardy annuals and sow.
Cover ponds with netting before autumn really arrives and leaves starting dropping.
Clean out cold frames and greenhouses with disinfectant, ready for autumn.
Prune any late-flowering shrubs.
Keep camellias and rhododendrons that form their buds now for spring flowers well watered.
Take hardwood cuttings from gooseberries and currants.
Scarify and aerate your lawn if needed and repair any patches with new seed and apply an autumn feed.
---
Harvesting what crops you have left
September is the time to harvest anything you have yet to harvest, with the exception of things like leeks and parsnips that can be done a little later. Some crops like onions tell you when they are ready by flopping their leaves over and starting to turn yellow. Check them first to ensure they have not been damaged and that no insects have penetrated the onion below the soil and then enjoy.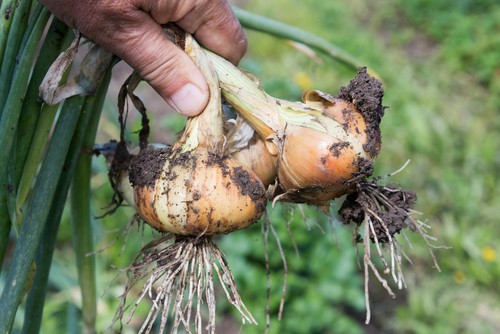 Store extra crops and lift pumpkins and squash off the ground
All the extra crops can be stored in plant trays or old net bags, some nurseries sell old net bags for a few pounds for a bundle and some may even give them away for free. Things like pumpkins and squash need to be lifted off the ground so that they can ripen in the sun before you harvest them.
If the weather has already brought with it a great deal of rain, you can cut things like pumpkins and squash prematurely and leave them in your home. Place them on a sunny windowsill or in a greenhouse to fully ripen.
Remove the fruit from tomatoes and let them ripen
If you are removing your tomato plants and you still have some late bloomers that are green, bring them inside as well and allow them exposure to sunlight, eventually, they will turn red and be ready to eat.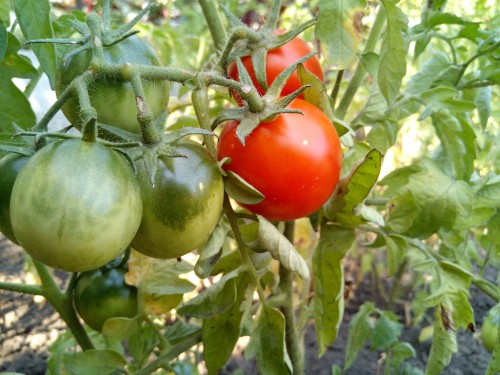 Prepare fruit for storage
If you have fruit you want to prepare for storage, harvest them and leave them in a warm room for at least two weeks. After that place them in a cool, dry area. There are certain fruit varieties, specifically apples, that are best eaten as soon as they are picked like Malus Discovery. So be mindful of what varieties you have and whether they should be consumed immediately, converted into jams, or saved.
---
Preparing for Spring
Plant autumn and winter bedding
It might seem like it's a long way off, but September is the time to start preparing for spring. If you want a beautiful floral display at the beginning of spring, you have to start planting your spring plants now including things like pansies, violas, primulas and wallflowers which you can get bare root. If you go to your local garden centre, you should find a great selection of things you can plant immediately in trays. Pansies and violas are particularly good because they will flower through winter and well into spring.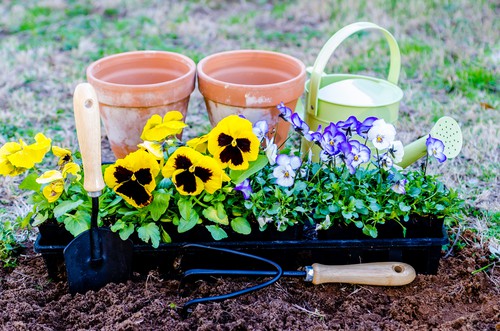 Once you plant them, of course, water them well and deadhead regularly to promote more flowers.
Plant spring-flowering bulbs
You can also purchase your spring-flowering bulbs while buying your spring bedding. When picking your bulbs always choose firm, plump bulbs that have no mould. It is recommended that you plant bulbs as soon as possible, and if you see that they have started putting down roots, head out into the garden. Bulbs worth planting include daffodils, snowdrops and tulips.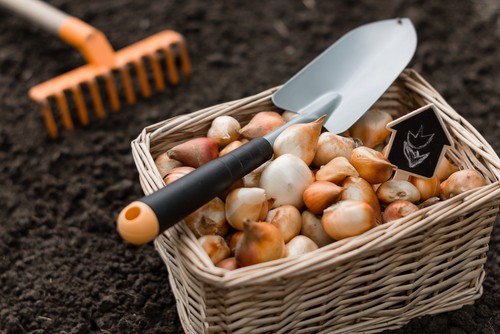 The cooler temperatures of autumn are good for tulips so if it's still quite warm in your area you might want to hold off for another month.
---
Patio Maintenance
September is when you should focus on the plants you have in containers on your patio. Continue deadheading if they are still producing blooms. If the weather is dry and you should give your plants some extra water.
Feed summer containers to give them one last boost
If you are able, add some weekly liquid fertiliser to give them a boost. At this point the control-release fertiliser that you may have been using throughout the spring and summer will likely have run out, which is why is well worth adding some liquid feed to keep them going that little bit longer, most will continue until the first frost arrives.
---
Tackling Perennials – start dividing perennials
If you have perennials, now is the time to divide them. In order to divide clumps of perennials, you need to remove them from the ground, cut them into pieces by pulling them apart with garden tools like forks or shovels, or simply cut them with a knife or even a spade.
Ideally, each piece you cut should have some leaves and roots. Then replant these new clumps wherever you want your perennials to thrive.
Certain perennials do best if you divide them every few years, one prime example being Agapanthus. This helps to prevent clumps from growing too vigorously and is particularly important if your perennials are outgrowing their allocated space.
---
Plant those last few Vegetables
If you are planning to grow more vegetables, now is the time to plant kale, chard, spinach, coriander, dill, lambs lettuce, Pak Choi, spring onions and rocket lettuce.