Last updated on January 21st, 2020
Our site is reader supported, this means we may earn a small commission from Amazon and other affiliates when you buy through links on our site.
If you are looking to have a garden rife with bees, there are certain plants to consider growing. It's important to remember that our local bees play a very important role in pollinating plants but they also need sustenance from the plants.
While many flowering plants will bring bees about for intermittent pollination, if you really want to create a bee-friendly garden, try including our top 10 plants that attract bees.
Digitalis (Foxgloves)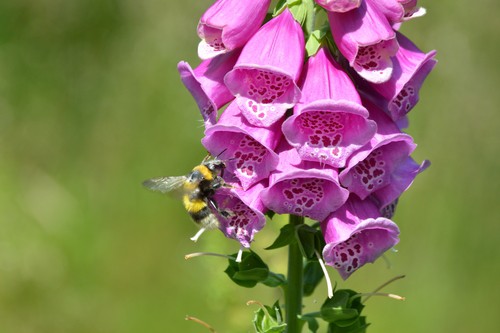 Foxgloves are plants contained in nearly any garden where the vertical appeal is in need. The flowers are all produced along upright stems which can span well into 2 metres based on the variety. These plants grow clusters of tubular flowers that come in many shades: purple, pink, red, yellow, or white. Inside of each coloured flower is lighter shades and dots of dark colour that take on the appearance of freckles. The plants grow well in full sun or partial shade and prefer moist well-drained soil but with almost grow anywhere. They are generally a short-lived perennial but often self-seed so it can be a good idea to deadhead before the seeds drop if you want to control the spread of foxgloves. A must-have for any bee-friendly garden.
---
Buddleia (Butterfly bush)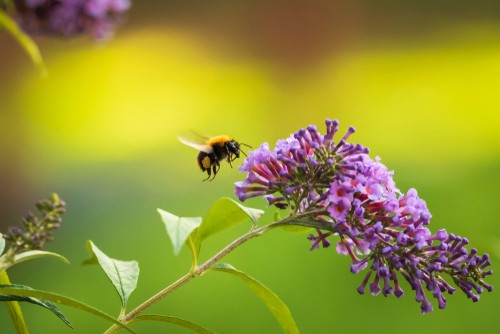 There are many plants that bees like, but the butterfly bush is particularly stunning. Butterfly bushes have been commonly referred to as butterfly bushes because they are known to attract masses of butterflies but they also attract bees too. These bushes can grow in a compact shape so long as you prune them annually. They are otherwise low-maintenance shrubs that will do very well throughout your garden. Of all native plants, the butterfly bush is particularly essential to butterflies, birds, and bees. The flowers produce to grow in large quantities complete with tiny flowers that are produced along single stems ranging from white to pink all the way to dark purple. You can deadhead throughout the blooming season in order to encourage additional flowers.
---
Lonicera periclymenum (Honeysuckle)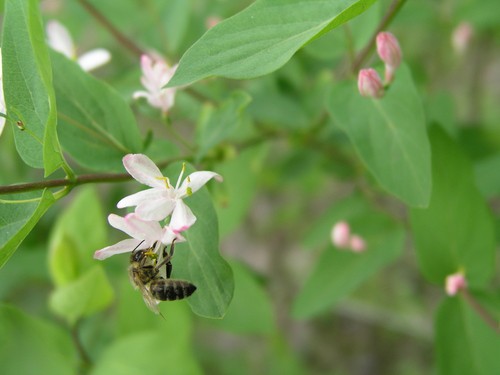 The European honeysuckle is a low maintenance plant, tolerant of deer and sure to bring birds and bees to your garden. It likes full sun but will thrive all the same in partial shade. It is a deciduous shrub which takes on the growth habits of climbers, so you can allow it to scramble up to 300cm in height. The leaves are ovate and appear on stems in pairs that appear dark green on top, but blue-green on the bottom. Eventually, come springtime, you can enjoy showy and fragrant flowers that are creamy on the inside, eventually becoming yellow with maturity and outside colours ranging from crimson to pink to yellow, and of course, this is what the bees love.
---
Erysimum 'Bowles Mauve'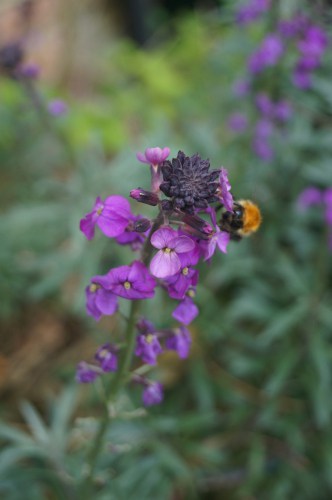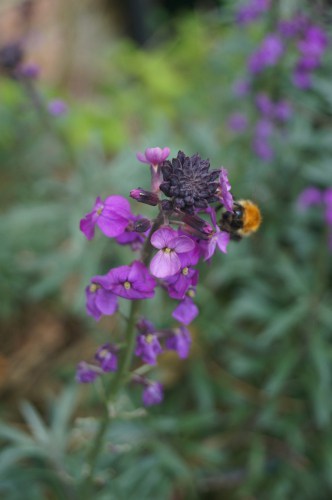 This award-winning plant is commonly known as the Wallflower and is one of our favourites. It is a very vigorous form of perennial / shrub that typically reaches between 60 and 75cm in height so not too large. It tends to branch out freely in an otherwise erect and bushy manner with a spread reaching anywhere between 45 and 60cm. Very versatile and mixes in well with other perennials, can be used as part of a rock wall or grown in containers. It does prefer sunny locations if at all possible but it is tolerance of partial shade. It will bring to your garden butterflies as well as supporting the local bees.
---
Rhododendrons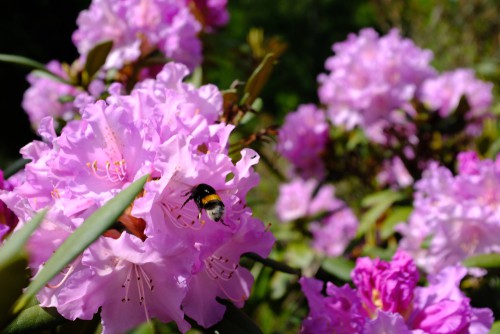 If you want to encourage a bee-friendly garden, cultivating different rhododendrons are sure to help. There are literally hundreds of varieties from which to choose so no matter your preference you can find something. You can pick colours for the flowers that range from pink to red, purple, white, and yellow. Rhododendrons are particularly popular because the large, leathery green leaves maintain the green shade all throughout the winter so growing it in your garden means colour all year round. And then, of course, this colour is offset by the large clusters of showy flowers throughout the springtime. This is a great choice as they provide flowers for bees early in the season when flowering plants are a little scarce.
---
Lathyrus latifolius (Everlasting Sweet Pea)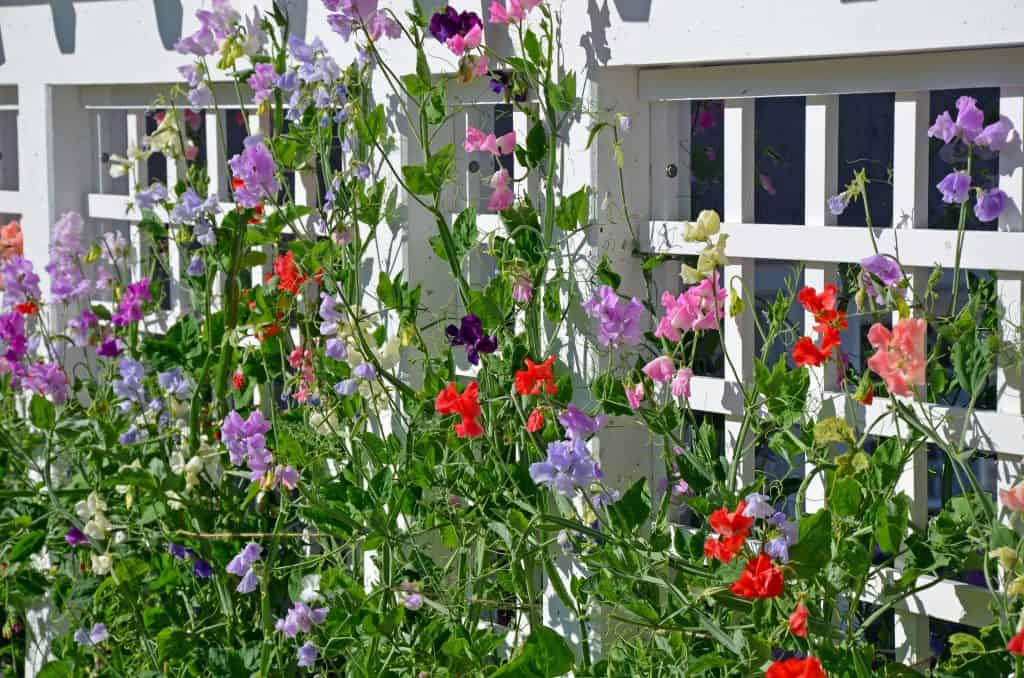 This plant is award-winning. A climbing perennial also known as everlasting sweet pea, it brings to any garden racemes of vibrant pea type flowers, between 5 and 11 each, which range in colour from pink to red to purple or white. Each flower spans about 2.5cm across and attracts bees thanks to the sweet scent. The showy clusters will remain present all summer long and throughout the year you can train the climber to fill any space you want bees to attend.
---
Echinops-bannaticus (Globe Thistle)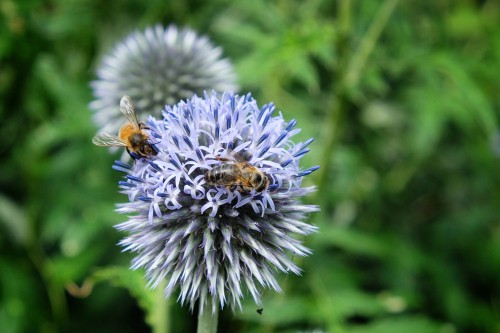 Part of the Aster family, the bee attracting flowers from the globe thistle is unlike any other on this list. As the name suggests, they take on a rounded or globe shape. They typically grow up to 1-2 metres in height, along stiff branching stems and produce blue to purple coloured flowers. Each of the flowers is perfectly round, intensely coloured, spanning about 4 cm.
---
Hyacinth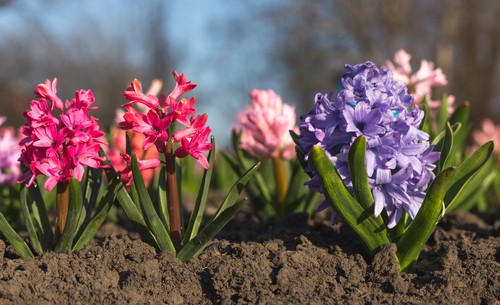 Native to the Mediterranean, these fragrant flowering bulbs are a wonderful addition to any garden. They come in an array of colours, and you can even find a spectrum of blues ranging from soft, baby blues to rich, sea and sky blues. If those don't suit your garden, try pink, white, or purple. The flowers truly steal the show, as they are produced in dense clusters that grow up long, narrow stalks. The flowers are very aromatic so they offer something appealing to your garden while also successfully attracting bees. They do best in full sun or partial shade and in addition to growing large and upright they also produce offshoots that spread, but these can be removed when the plant is in dormancy.
---
Lavender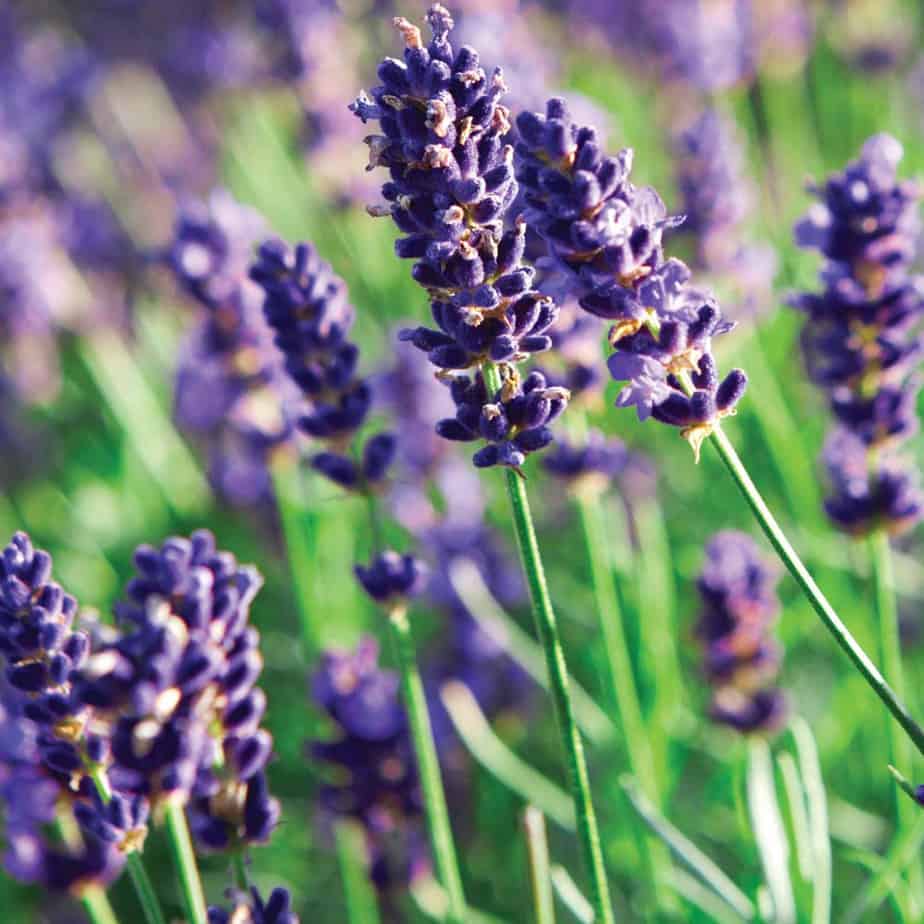 Even though lavender originates from the Mediterranean it grows particularly well in England in part because of the cooler climate. This plant is well known for the grey-green foliage it affords mixed with the tiny lavender flowers that bring all manner of garden wildlife to your doorstep. Lavender is particularly versatile insofar as you can grow it well in containers or directly in the ground which means you can place pots of lavender along the porch if you want bees buzzing around or you can intersperse lavender in your garden where you want bees to be the most prominent. Regardless of location, it won't reach more than one meter in height so you never have to worry much about lavender taking over.
---
Mahonia x media (Oregon grape)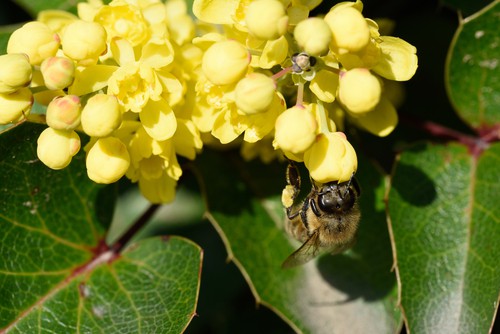 This evergreen shrub will grow in an upright fashion. It produces large leaves that take on the appearance of holly. Starting at the end of autumn through the beginning of winter you can find bright yellow flowers growing along racemes which are very attractive and slightly fragrant to boot. This is a particularly great shrub to grow intermixed with any of the other options on this list because the yellow flowers and the purple berries are present when most other plants are failing to bring bees to the garden. This plant does best with morning sunlight and partial shade in the afternoon. You can encourage additional, new shoots by removing older canes.
No matter which of these stunning selections you choose for your garden rest assured that you will be able to effectively bring to your garden that bees that you need to help pollinate. Having such a friendly company buzzing around is sure to add ambience to your garden. Don't forget all these plants are also good for other pollinating insects too.
---