Our site is reader supported, this means we may earn a small commission from Amazon and other affiliates when you buy through links on our site.
Last updated on January 21st, 2020
Winter is an incredibly challenging time for wildlife as temperatures drop and food becomes significantly harder to find. Birds who would normally consume insects have to find alternative foods while certain species will travel exceptionally far and adapt their foraging behaviour. You can help all of your local birds by providing an extra source of nutrition during the cold, winter months.
What to Feed Birds in Winter
What to feed the birds is truly contingent upon the type of birds you have in your area. Certain birds will be attracted to very specific foods while others will adapt what it is they consume based on what's available. You can offer a wider variety of bird foods to maximize the number of birds you help.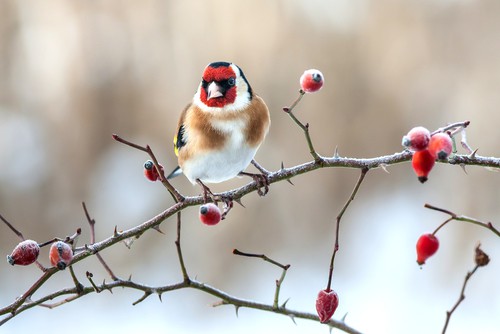 Goldfinches typically eat smaller seeds.
Greenfinches and tits consume sunflower hearts.
Sparrows, collared doves, and wood pigeons eat large grains.
Woodpeckers and starlings eat fat balls and peanuts in particular.
Robins & thrushes like live food or mealworms.
Waxwings will consume windfall fruit.
Obviously, there is a great range to the types of food preferred and you should take it upon yourself to figure out what birds frequent your area so that you can decide upon what foods are best suited for them.
Britten & James All in One High Protein No Mess wild bird seed
Britten & James All in One High Protein No Mess. Mix of bird seeds with mealworms for wild birds. Give birds an extra boost during critical periods. Feed freely in winter and during the breeding season. 100 per cent natural high energy food without waste. Attracts goldfinches, bullfinches, and many other species. The seed shells have been removed, so you pay only for the nutritious grains.
Feed freely in winter and during the breeding season. 100% natural high energy food without waste. The husks have been removed, so you only pay for the edible contents and there is much less mess around your eating area. Suitable for seed feeders, bird tables and ground feeding.
Prized by goldfinches, bullfinches, nuthatches, robins, tits, blackbirds, sparrows, woodpeckers, brambles, and other birds.
Packed in the UK by Britten & James.
Peckish Natural Balance Energy Suet Fat Balls for Wild Birds, 50 Tub
These energy suet fat balls are enriched with sunflower seeds to attract more birds to your garden
Use this food to attract Blackbird, Robin, House Sparrow, Long Tailed Tit, Chaffinch, Song Thrush, Blue Tit and Great Tit plus many more birds to your garden
Suitable to be fed to birds all year round
Can be fed from an energy ball feeder on a bird table or in a ground feeder
Extra Select Peanuts Wild Bird Food, 1 kg
High grade standard peanut.
Contains vital protein for the wild birds.
Ideal for winter time when natural food hard to forage.
Another product from the Extra Select range.
Weight 1kg.
Where to feed birds during winter
Where birds receive their nutrients is almost as important as what nutrients you offer. If you have things like hanging bird feeders and bird tables you will probably see a lot of smaller birds and blue jays but not as many dunnocks or wrens. This is simply because different birds have different feeding habits.
Try smearing fat or peanut mixtures into the crevices of branches or bark
In order to maximize your offerings, you can smear your fat or peanut mixtures into the crevices of branches or bark specifically for birds that scavenge in trees like woodpeckers.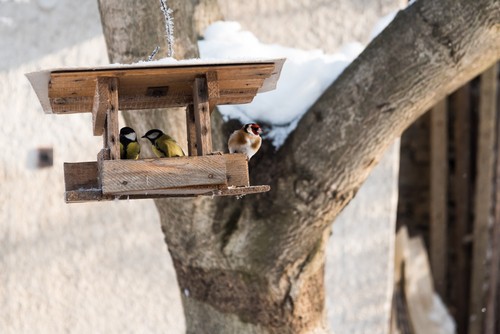 Hang bird feeders and remember to remove snow from feeders as this is when they often need it most
You can still hang your feeders of course for the smaller birds but be sure to remove snow regularly as tinier birds will have a significantly harder time making their way through the snow in order to reach the food even if it's only a few centimetres deep.
Tangentially it might be worth moving the feeders and tables around every now and then to help prevent certain predators like sparrowhawks or cats from becoming far too familiar with the location of their prey. If you move these around a few times throughout the winter you can also help reduce the amount of mess or build-up which would otherwise accumulate in one area of your garden.
Additionally, you can sprinkle seeds and fat balls under shrubs for the ground feeding birds.
Plants for birds in winter
You don't have to limit yourself to things like mealworms or seed. There are plenty of birds that will eat what nature provides. That said you can plant things like Rowan trees and cotoneaster shrubs which produce last and crops of berries throughout the winter. Mistle thrushes love these.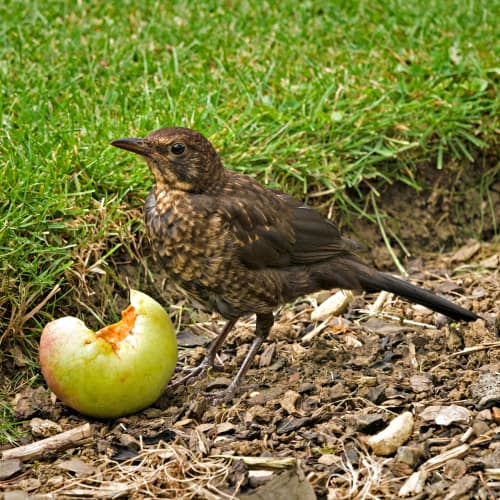 Leave fallen fruit from fruit trees rather than removing them
Cotoneaster berries are a great natural food source for blackbirds like thrushes. Blackbirds, as well as red wings, will appreciate any windfall apples. Fruit is particularly important for many birds so if you have fruit trees and shrubs you can leave the fallen fruit to give the birds something for winter.
Consider providing plants for hibernating insects that birds can feed on
Ivy is another useful climbing plant as the leaves provide a larder for wrens searching for hibernating insects.
Of course, never discount the use of nectar for smaller birds like blue tits. Early or late flowering ornamental shrubs can give berries and nectar in the winter, like the Mahonia.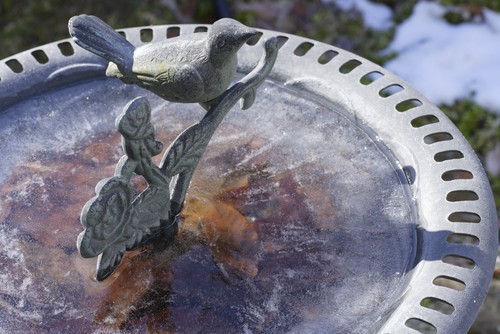 Provide water through bird baths
If you are going to plant trees for the local birds or maintain feeders of any kind, it might benefit the local birds for you to provide access to clean, fresh water. Wherever the birds access their food they should also have access to water. In order to counterbalance dry diets especially for those who consume seeds like finches, you need to offer a regular source of water and when winter temperatures drop below freezing, the available sources become significantly limited. Remember to break the ice if the water freezes to ensure they birds still have access to water on frosty days.
You can also help by filling small containers with water when all other sources are frozen. In order to keep a small container melted you can even set it on top of two bricks underneath which you light a small tea light candle.
Don't Stop feeding if you start as this can mean life and death for birds in winter
Whatever you decide, once you start the process, don't stop. It's important that you keep up your regular habits of feeding birds because a sudden drop in food can be particularly detrimental to the birds who otherwise relied upon your food source. If the food naturally or gradually runs out the visitors will soon adapt and start searching elsewhere so if you are unable to keep it up one year, you plan on removing existing trees or fruit-bearing bushes, or you are moving, starts to taper off the amount of food you make available so that the birds can make an adjustment. A sudden change can quite literally mean life or death especially for smaller birds like tits.
Clean up
No good deed goes unpunished. When you decide to feed birds throughout the winter you will have to deal with the risk of unwanted diseases passing from one board to another. You can help this by scrubbing the feeders regularly and rinsing away any droppings. Of primary importance is the removal of any mouldy or wet food.
Doing all of these things will go a long way toward providing the local birds with a reliable food source to get them through the colder, winter months. It also brings with it the fringe benefit of daily visits from the local bird population.

Bestseller No. 1
Peckish Winter Warmer Wild Bird Seed Mix, 12.75 kg
Packed with nine different ingredients
High fat and energy content
Contains 20 Percent oil for essential winter energy
Ideal for feeding to birds visiting your garden during the cold winter months
This product comes in a resalable pack so you can keep the seed fresh once open
Bestseller No. 2
Bestseller No. 3
Peckish Winter Warmer Energy Suet Fat Cake Blocks for Wild Birds 8 Pack with Free Suet Cake Block Feeder
Free feeder in pack making this the ideal gift for someone else or for you
Suet cake block has a festive mince pie flavour to give birds a delicious treat with the flavour and aroma of festive mice pies
The suet cake block is high in fat to help provide birds with essential energy they need
Use these suet cakes to attract birds including the Dunnock, robin, House Sparrow, long tailed Tit, Goldfinch, Bullfinch, Blue Tit, Great Tit, Chaffinch, Greenfinch and many more to your garden
Bestseller No. 4
Bestseller No. 5
Last update on 2021-04-02 / Affiliate links / Images from Amazon Product Advertising API