Our site is reader supported, this means we may earn a small commission from Amazon and other affiliates when you buy through links on our site.
Last updated on January 21st, 2020
If you are looking for smaller growing clematis for shade in your garden, rest assured there are plenty of options at your disposal. Even though most clematis plants require full sun, there are plenty of dwarf clematis varieties that love the shade. Given the popularity of clematis in regular homes, new hybrids and other varieties have made their way onto the market place that allows for people to plant in any situation.
Below are some of the best shade-loving clematis for pots and for anywhere else you want to plant them.

Top 5 Dwarf clematis for shade
Clematis 'Carnaby'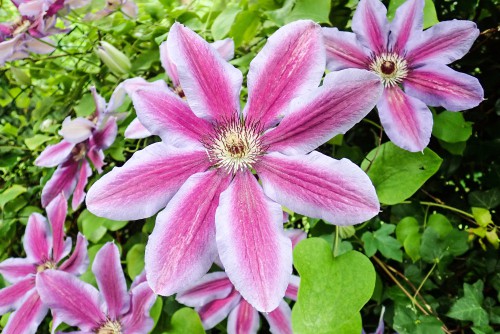 This clematis known as the Carnaby is a more compact bloomer which provides flowers in the spring in the early summer and then provides a follow-up flush of flowers at the end of summer or beginning of autumn. This variety offers deep pink flowers with red stripes down the centre known as bars. They can be prone to fungal diseases early on so you will need to put in a small bit of care initially to protect them but once they get established their very trouble-free.
It is important to install a trellis or other support structure for your Carnaby clematis to climb. This is a very compact clematis so it will only reach around 2m tall which means you don't need a large structure. Even small trellis or plastic netting strung across your fence or wall will be adequate.
This variety grows best when you provide it with weekly waterings and feed in the springtime. You don't want to fertilise this variety when the plant is in bloom because that will shorten the blooming span. You should prune it lightly, removing any dead vines as you see them and when the first set of bloom starts to fade, you can prune or deadhead again to help improve the second flush of flowers. This clematis belongs to pruning group 2 which you can ready about here
Clematis 'Taiga'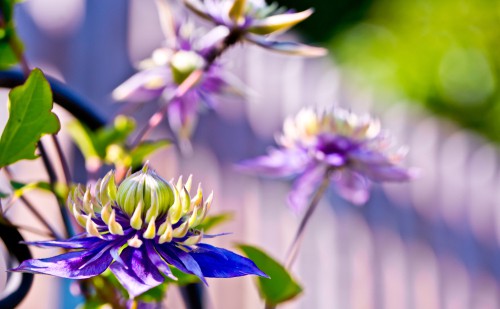 This clematis works very well on its own given the stunning purple flowers that are produced. These flowers have multiple layers to them with a deep, double purple shade and yellow-green tips. With this variety, it will grow moderately in a climbing habitat between the summer and autumn and is perfectly well suited to colder areas.
Before you plant it you should water the area be that the ground or a container. It will do well with partial sunlight so if you have an area where there is shade for half of the day or more or even dappled shade, you can plant it in that area but make sure to add water and fertilizer to this regularly. Watering should take place on a weekly basis until the plant is established itself as with most clematis, usually after the first season.
Fertilising should take place twice a year but not when it is blooming. When it comes to pruning you should shape your plant if necessary at the beginning of Spring before the flowers have bloomed. In order to help keep the soil cooler, you can add mulch around the base but not directly up against the base. This clematis belongs to clematis group 3.
Clematis Angelique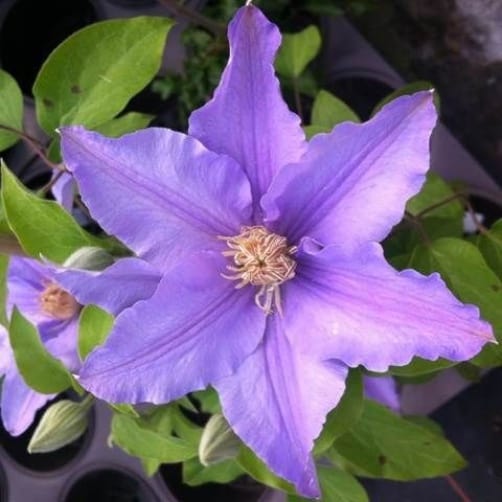 This variety has pale, silvery lilac coloured flowers that take on a star shape. The petals have waving margins and come to a point. But that's not all that draws the eye. The blooms are made even prettier by the crown of stamens. This particular variety is incredibly compact and is a free flowering climber that will do perfectly well in shaded areas and in pots.
You should prune it hard after the flowering. It is suitable for pot growing, does not have a scent, and will naturally climb so be sure to give it something against which to climb. You will get flowers between June and October even if it is somewhat shaded. This is one of the few clematis varieties that can thrive in partial shade, full shade, or sun. Check out pruning group 2 for pruning.
Clematis Cezanne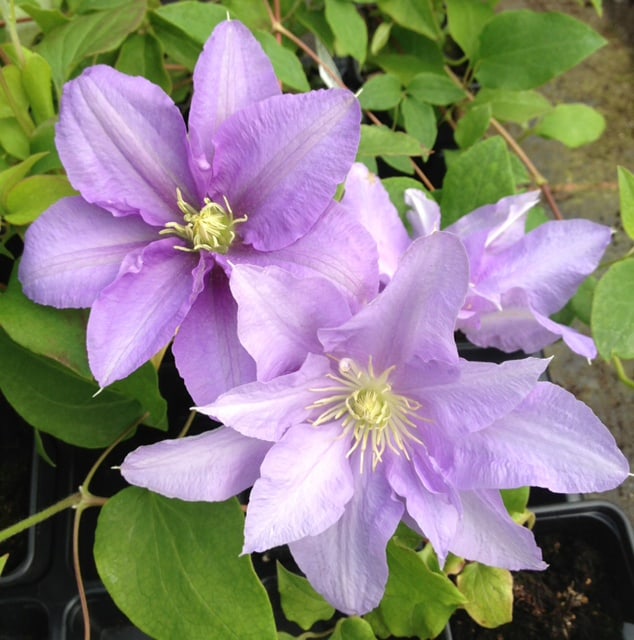 This clematis will give you beautiful flowers at the end of spring to the beginning of summer. It reaches a height of around 90cm up to 120cm and a spread between 30cm and 60cm making it perfect for container growing in small or larger pots.
If you are planting more than one it needs spacing of about 60cm. It will do well in alkaline or neutral soil, chalky soil or clay soil and even sandy soil so as long as it's well-drained it should do well. It is very showy, it will attract multiple bees and butterflies into the garden. This variety produces sky blue coloured flowers that take on a star shape and span between 12 and 15 cm. The stamen is a creamy white colour juxtaposed by the small array of broad and overlapping purple flowers.
It is terrific for smaller gardens and in containers. Many homeowners combined it with other smaller shrubs. once it is planted you should remove any dead or weak stems before growth can begin. You can avoid any heavy pruning with this particular variety as it is group 2 pruning so a little tidying up after flowering it all that is needed. It will provide you with a second flush of flowers later in the season if you cut back some of the stems to the next large bud or strong-side shoot. Doing this after the first flush will help you to get a second flush.
Clematis OOH LA LA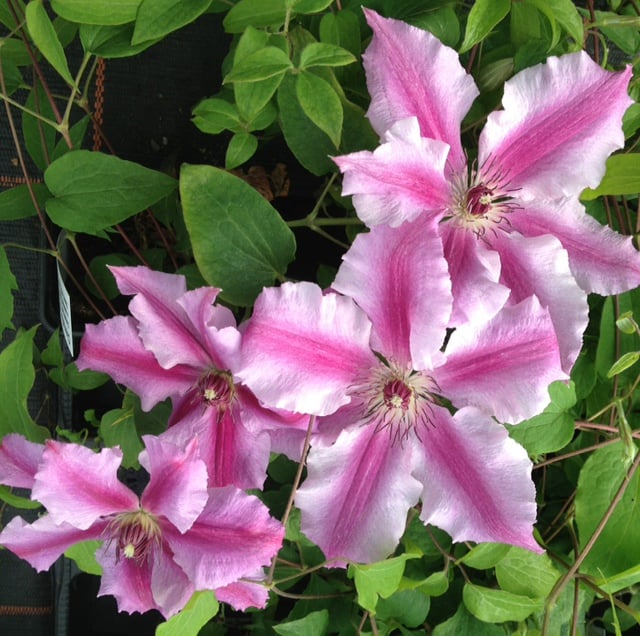 This variety gives you a break from all the purple and brings this to the table a beautiful pink. Running up the centre of each bloom you will see hot pink stripes accented by billowing light pink exteriors.
This is a compact and free-flowing plant which actually thrives in shade. That said growing it in shade will help you to bring more light to an otherwise dark area by way of the flowers. It can be grown on outdoor patios, decks, in containers, or in a garden.
It will produce flowers at the end of spring through the end of summer. When it comes to pruning requirements you simply need to reduce the stems to about 15 cm at the end of winter to encourage better growth that same season. Once it reaches maturity you will reach a height of approximately 90cm to 100cm making it perfect for small trellis.
Clematis Samaritan Jo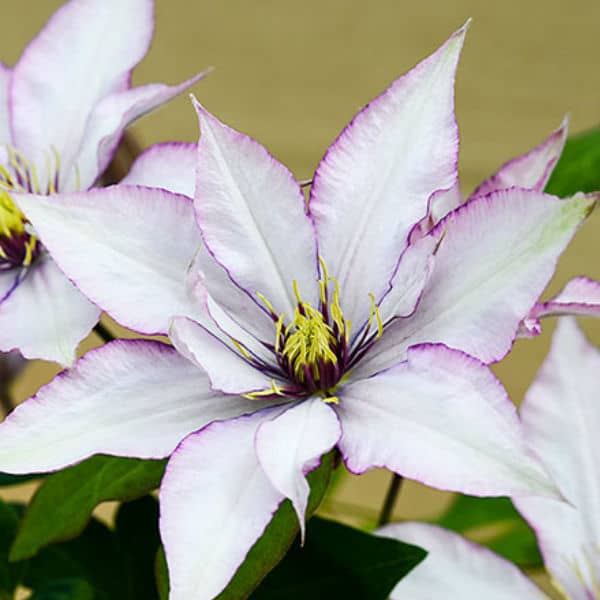 This variety is perfect for patio planting and simply looks beautiful. It is a compact variety that has layered and pointed petals each of which take on a silvery pink shade with a rich purple edging. The centre brings with it a crown of dark purple tipped with bright yellow.
It will meander over any trellis or fence you have to give it something up which to climb. This variety attracts butterflies, is perfect for pollinators, has a long blooming cycle, and we'll fare quite well in containers.
With this particular variety, the white flowers accented with purple will thrive first in early summer or midsummer and second in early autumn so you can enjoy blooming twice a year. This performs best when you prune it after the first flowering just to cut off any dead material. You should tie it to a trellis or other structure up which to climb but do not tie it so tightly that the growth gets damaged trying to move.