Our site is reader supported, this means we may earn a small commission from Amazon and other affiliates when you buy through links on our site.
Last updated on January 21st, 2020
If you have a deep water pond in your garden there are great plants that you can add. It's important to find the right size plant for your deepwater pond as plants designed for smaller ponds simply won't fit the bill as it were as there are limits to what depth of water they will grow in. Below you will find it six of our must-have deep water pond plants.

Amphibious bistort (Persicaria amphibia)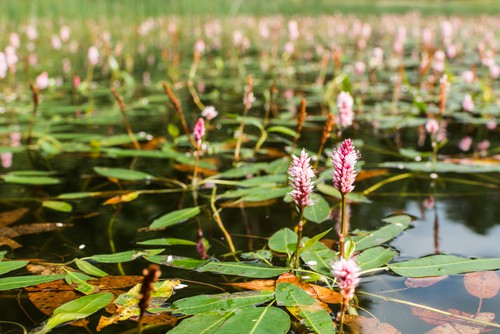 This perennial pond plant can reach heights between 10 and 150 cm, part of the dock family. It will flower regularly producing pink flowers along pistils that stick out of the water. The leaves are short blades usually between 8 and 15cm in length, with a reddish colour. The Aquatic leaves are typically hairless and in some cases the floating blade itself fans between 10 and 15cm. Flowering between July and August, thereafter it produces small black or brown fruits or your local animals.
It will grow in depths of 2ft happly but will also grow in depths of 4ft and has been known to grow in depths of 8ft making it perfect for deeper water. Another bonus is the flowers attract bees and other pollinating insects.
Golden Club (Orontium aquaticum)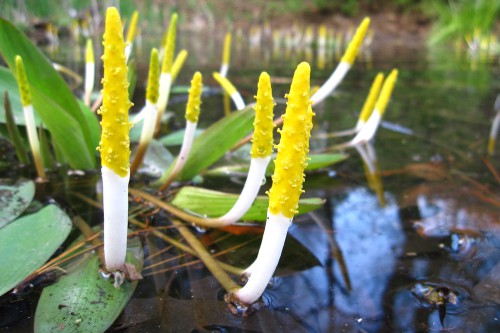 This low maintenance pond plant is tolerant of partial shade but provides optimum leaf colour if it is given full sun. It does very well in the shallow margins of a pond and is well known for its showy flowers. Between April and June, you will enjoy a smattering of tiny yellow flowers that appear in the shape of spadixes. At its full maturity, it will reach a height and spread just shy of one meter so it doesn't get too big and can be the perfect addition to any smaller but deeper ponds you might have but will do equally well in a larger pond.
Water Hawthorn (Aponogeton distachyos)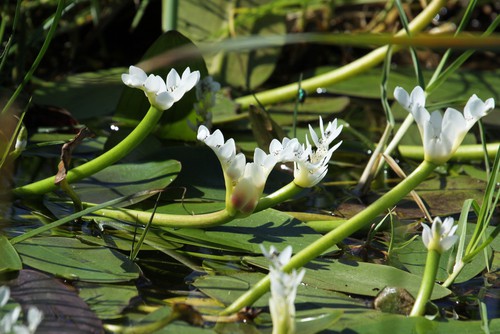 This aquatic perennial loves shallow areas of small ponds and can be grown in the bottom mud of your pond but it is recommended to grow it in containers. It reaches a height of upwards of 1 meter and a spread just slightly smaller. It prefers warm winter climates and from the Autumn until the springtime you can enjoy stunning flowers of white which are very showy and fragrant. In the Heat of the summer this plant will likely go dormant but otherwise requires no maintenance. This particular Lily like plant is known for the floating leaves and the aromatic flowers that grow out of the tube. It appreciates partial shade or full sun and shrub be submerged 1-3ft making it ideal for deeper margins.
Fringe lily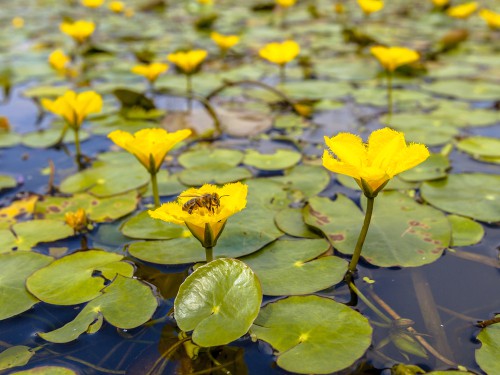 The common Fringe Lily likes to be in moist areas and it has a tall stalk that spans about 50cm in length and very slender leaves that spend no more than 20cm long. At the end of each branch lit you will find a grouping of flowers that open for one day each but throughout the course of several weeks, these flowers will continue to be produced. The official name for the Fringe Lily is derived from the fact that it has an edible tuberous root. None the less when it opens with it's a lovely lilac shaded flowers it is sure to be a treat for your pond. Can be submerged in up to 80cm of water and is best planted to containers to control the spread.
Water lily (Nymphaea)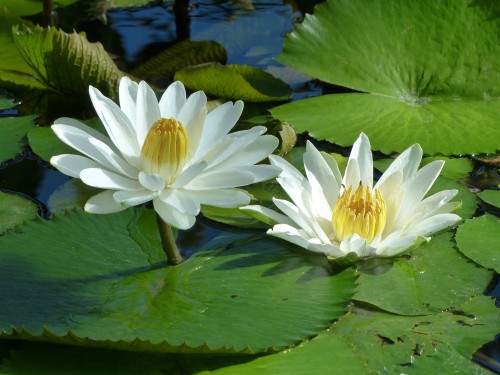 This particular water lily is an aquatic plant that produces very large flowers in either pink or white which are incredibly fragrant. The flowers are formed on top of a round floating set of leaves. Underneath the water are long stems of green and purple. There is one flower for every stem and they tend to open early in the morning and then close about midday. They can get quite large and look amazing.
Ceratophyllum demersum, C. submersum (hornwort)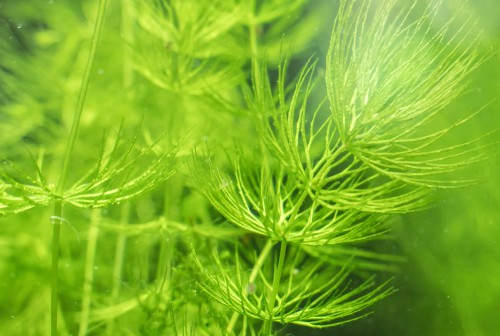 This free-floating, submerged pond plant is perfect for spawning. It is very easy to grow and grows quite quickly. The leaves grow in three or four fold forks with thread-like tips. And it does very well under moderate light. It is in effect a rootless plant which means you can leave it floating just below the surface in some cases the stem and can get stuck at the bottom of your pond so be aware that it might work in either situation. You don't have to add any extra carbon dioxide to stimulate its growth but it will need a very high macronutrient concentration. It's recommended for ponds in particular because it does grow very quickly and if you try to grow it in a container or other small environment you'll have to trim it regularly but in a pond, you likely will not.
Now that you know the top six deep water pond plants you have a handful from which to choose next time you need to add something to your pond. Remember that you can always mix and match if your space allows.